You'll Never Walk Alone With 11 Champions
Entertainment,Gambling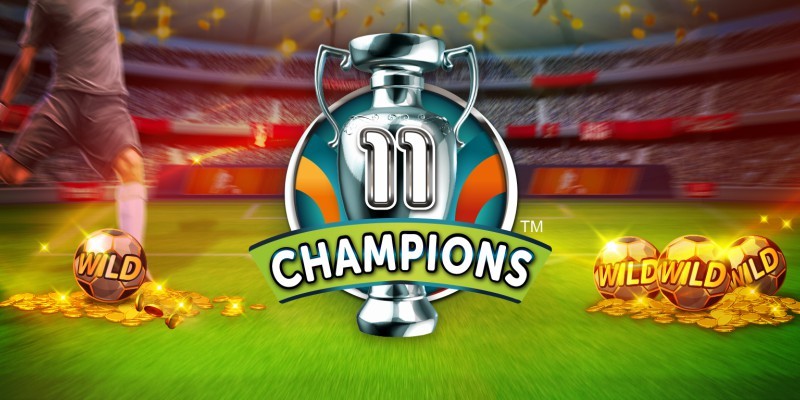 Source: Microgaming
From the dawn of time, humans have understood that there is safety in numbers. At first, it was merely a matter of survival as they collectively fought against wild beasts and predators of the primitive world. Thereafter, they leveraged the concept of strength in numbers in hunting, creating and defending societies, and subsequently, conquests. As civilizations matured, the tribalistic instinct inherent in all of us was suppressed for generations – until the advent of sports.
Sports provide an outlet for us to once again seek collective comfort against adversaries by becoming part of a tribe. Sports also help us to improve our self-esteem and self-image through a psychological concept known as Basking in reflected glory (BIRG). This phenomenon is nowhere more apparent than in football, which, as legendary former Liverpool manager Bill Shankly once said, is much more serious than life and death.
With practically every professional football league in Europe currently closed due to safety concerns, Spin Palace's online casino is excited to announce the imminent release of 11 Champions on 2 June 2020. While it will never take the place of real football, it will definitely help to assuage the cravings felt by millions of football fans.
11 Champions: An Overview
11 Champions is Microgaming's homage to football. It is a unique and exhilarating five reels and three rows video slot game which incorporates elements of the Beautiful Game in all its glory. Fittingly, the game's icon is a trophy layered on top of a silver and orange football. On the game's main screen, an image of a beautiful green pitch is used as a background image.
It doesn't end there. The reel symbols used include a number 7 jersey, football boots, a trophy and a goalkeeper's glove. In addition, the Wild Symbol is emblazoned on a football designed similar to Adidas' world-famous truncated icosahedron black and white Telstar model.
But that's not all! Players also have the option of choosing their favourite team's jersey colour as the primary colour theme of the game. A true rarity in the slots online world!
11 Champions By The Numbers
11 Champions is a 5-reel and 3-row slot game which offers players the chance of winning jackpots of up to 5000X their wagers. The game has a reasonable RTP (return to player) rate of 95.93% set against a relatively volatile hit frequency of 25.86% - not too shabby for a slots online game in any online casino!
It has a default bet of 5,000 credits or 500,000 coins, while the maximum values go up to 250,000 credits and 500,000 coins respectively. The default coin size is 0.1, but the game accepts wagers in denominations of 0.01, 0.02, 0.05, 0.10, 0.20, 0.25 and 0.50. Each spin has a minimum default of 0.20 credits or 0.01 coins, and can go up to a maximum of 50.00 credits and five coins.
The slot game offers 20 paylines, which are calculated from left to right. Only one prize - the highest – is awarded per spin.
The game provides support in 32 languages and has a native screen footprint of 16:9, which is perfect for computers and devices with screen resolutions of 1280 X 720 and 1136 X 640.
Gameplay and Features of 11 Champions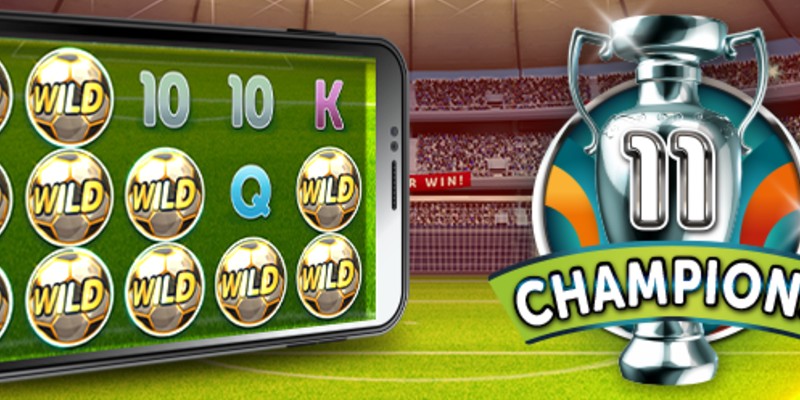 Source: Microgaming
11 Champions is a pulsating slot game which boasts numerous features, including a couple of revolutionary ones!
• Jackpots
The game features four types of jackpots with varying degrees of win difficulties: Grand, Major, Minor and Mini. The maximum multipliers for each jackpot are 15.00 (Mini), 40.00 (Minor), 200.00 (Major) and 5,000.00 (Grand). The jackpots will be triggered when players land three Scatters. Thereafter, players will choose cards until they manage to complete a set of three matching cards.
• Action Reels and Blazing Wild Streak Respin
The Blazing Wild Streak is an innovative feature that will definitely be imitated by other games in future. The gameplay begins when players land an Action Reel. Players must then demonstrate their footballing prowess by either passing or dribbling the ball. With every successful action, players will be awarded by a marked reel identified with a Gold Frame.
Once players reach a shooting position and score a goal, all the marked positions earlier will turn into Wilds. They will also be rewarded with a Respin that offers win multipliers of up to 11X. As you can imagine, this feature will elevate 11 Champions beyond other competing slot games.
If you'd like to give the game a test first, you're in luck. 11 Champions has a free game option meant exactly for players who'd like to test the waters and become familiar with the game mechanics. So mark your calendars, and join thousands on 2 June to play this summer's most inventive slot game!