Gambling Innovations: Cryptos & Online Wallets
Technology, Gambling
Source: Pixabay
Most people would believe that any innovation made within the online casino industry would be applicable only to that industry. However, the notion that technology fits only within its sphere of influence or interest would be quite incorrect. Technological wonders, breakthroughs and  inventions have often transcended their requirements and in many cases have wound up being used for something completely different than originally intended for.  The microwave, an oven we simply cannot do without these days, was originally the by-product of a military invention, an accidental one too.
In the case of the online casino industry, the innovations founded within it have changed the face of internet banking.  Technologies designed to let players manage their finances and winnings in a safe and private capacity have spilt over into the conventional banking sector. Neteller, an online web-wallet originally conceived and made exclusively for the transferring of casino funds from and to players is now used as an all-round web-wallet. You can fund this account, store money in it and draw money from it by way of a specially administered MasterCard. Banking innovations like these have lead other companies and organisations to mimic this success and create web-wallets with their own unique features.  Cryptocurrencies, digital assets that have gained great recognition have also gained a strong foothold in the business of gaming with operators like Spin Palace Casino mobile ready to embrace it.
Online Banking Solutions
The inventive nature of the online casino banking sector has spawned and inspired many companies to cater to this industry. As a result, players now have many options from which to choose. Some of the online banking options are region-specific, so it's not a case of one size fits all, but it is a case of something for everyone.  One need simply take a look at the banking lobby of an online casino to get an idea of the extent of the options. Every possible financial avenue is there for exploration and while they all have the same end result, not each one has the exact same functionality, service fees and so forth.  Old and well-liked banking mechanisms like Visa and MasterCard remain first choice, but if you don't want to use them or you'd like to keep your gaming affairs separate from your usual financial affairs, then the various online web-wallets and solutions will provide that separation and privacy while also allowing you to use them for other shopping and purchasing endeavours. Many of these online web-wallets can also serve as additional bank accounts, places where you can store cash and even keep it for a rainy day. Enter in your actual banking information, and after a verification process you can then transfer any funds you may have in your web-wallet into your usual bank account.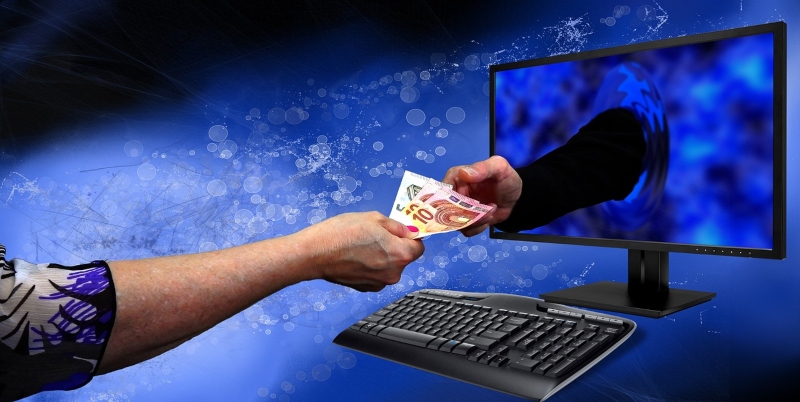 Source: Pixabay
Why Go With Crypto?
It's funny how the world works. There are so many examples of innovations that when initially unveiled, were engulfed in an air of speculation, only to experience redemptive acceptance. Cryptocurrencies are a perfect example of this redemptive arc. When Bitcoin started to gain traction, it was shunned and deemed untrustworthy, mainly as a result of its private and unregulated nature. Seen as the Che Guevara of internet banking in the start, this cryptocurrency now enjoys immense popularity and is accepted at many online merchants including online casinos, with some even touting themselves as crypto exclusive operators. Popular cryptocurrencies include Bitcoin, Ethereum, Ripple, Litecoin and Bitcoin Cash.