8 Crazy Christmas Traditions Around the World
Christmas traditions, Saint Nicholas, International Christmas customs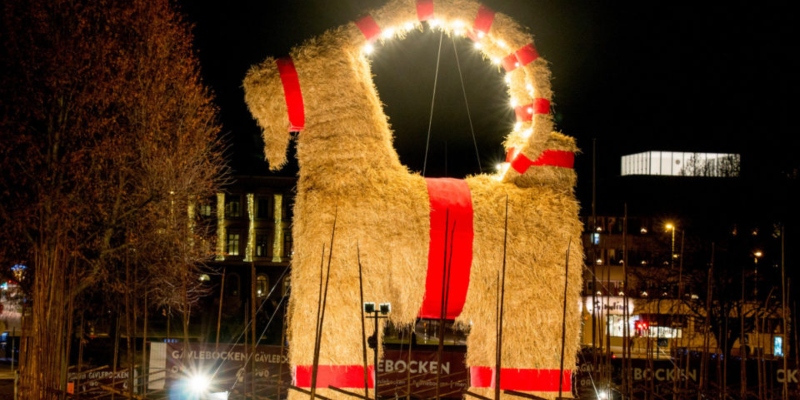 Source: Getty
Christmas is a beloved holiday celebrated in many different countries, from the United States to India. Historically formed by Christians on December 25, 336, to celebrate the birth of Jesus Christ, some Christmas customs, like the Christmas tree, can be traced to paganism. Through the centuries as Christianity spread around the world, so did versions of Christmas celebrated by a number of different cultures. Today we look at eight unique Christmas traditions, some quite weird, that people celebrate around the world. For a new Christmas tradition of your own, try playing our Christmas-themed casino games at Spin Palace.
Gävle, a town in Sweden, has basically two strange traditions. The first, original tradition: every year they erect a giant straw statue of a goat, or a Yule goat. The second tradition, because it is so fun to destroy things made of straw, is for some daring townsperson to burn down that goat.
Of the 50 years the goat has been erected, the poor Yule goat has become a giant pile of ash 35 times. Whether the town enjoys the attention or is just dutifully dedicated to their celebratory goat, town and townspeople (and sometimes tourists) interlock in an annual dance of goat-burning suspense.
Roller Skate Mass, Caracas
​In Caracas, Venezuela, roller skates are front and center when it comes to Christmas celebrations. The entire city closes off its streets before 8am the week before Christmas to allow people to roller skate their way to mass.
Children go to bed the night before with pieces of string tied to their toes, the other end dangling out the window. As the skaters glide by, they tug on the ends of these long pieces of string to entice the children to strap on their skates and follow the rolling mass parade. When mass is over, families get together to eat food, play music, and dance.
Source: Target/Amazon/Sur La Table
Shoe Outside the Front Door, Germany
Germans celebrate the Eve of Saint Nicholas on December 6. Saint Nicholas, the saint who inspired modern-day Santa Claus, died on December 6. To commemorate him, children place a lone shoe outside their homes that day, awaiting gifts from the saint himself that evening.
Legend also has it that Saint Nicholas and his partner, Knecht Ruprecht, visit each house the night before to see if children have been behaving. St. Nicholas wears a white robe and carries a book to check good behavior and bad.
Live It Up at Boliches, Argentina
Boliches are basically night clubs. So, yes, Argentinians party it up at night clubs to celebrate one of the best holidays of the year. For many locals, Christmas parties at boliches are similar to the New Year's Eve celebration for many other countries.
Some particularly popular boliches in Buenos Aires for Christmas celebrations are Niceto, Pacha, and Crobar. These Christmas-themed bashes feature DJs, live bands, and packed dance spaces full of Christmas-loving people, young and old. There ain't no Christmas party like an Argentinian Christmas party. For extreme holiday fun, we suggest booking a flight to Buenos Aires.
When it dips down to below 30˚C in Finland during the December, nothing feels better than firing up the sauna. And hitting the sauna is exactly what most Finns do the night before Christmas.
An ancient custom in Finland, rural folk used to believe that relaxing in a sauna also invited spirits of dead ancestors to join them in the ritual. Saunas have also been considered holy places utilized for many essential stages of life, such as birth, dying, and healing.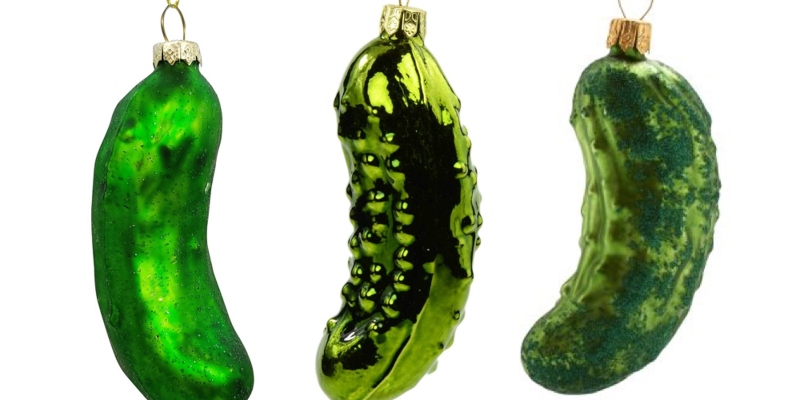 Source: Xinhua/Caracas Chronicles
Pickle in a Tree, Germany
​Strange and random, the Christmas Pickle is a beloved German tradition, although no one is too sure why it ever came into existence.
One theory is that the pickle was among many vegetable-themed ornaments sold at Woolworth stores in the 1880s. These ornaments were imported from Germany and became a hit. Another possible origin is that the Christmas Pickle is an old German tradition. The pickle was said to have been the last ornament hung. The first child to find the pickle on the tree received a bonus gift.
Caganer, Spain, Italy, and Portugal
The Caganer is a Christmas statue often found in nativity scenes that adorn the homes of people in Andorra, Spain, Italy, and Portugal. This shy little creche character appears to be hiding away from the hubbub of the Bethlehem scene, when in reality he is – pooping! That's right. He's taking a Number Two, while everyone else is enthralled by the birth of Christ.
Mari Lwyd is one of those Christian customs adopted from pagan celebrations, long before Christmas was a thing. Mari Lwyd translates to "gray mare" in English. A wassailing folk tradition, the horse (someone in a costume) and a party of people singing arrive at a home or pub. Then, a battle of wits ensues, known as pwnco. During this episode, the people inside the door exchanges challenges and insults with the Mari group. When the battle ends, the Mari party sings another song.