Find Gold And Glory With African Quest
African Quest, Game review, Safari slot, Adventure slot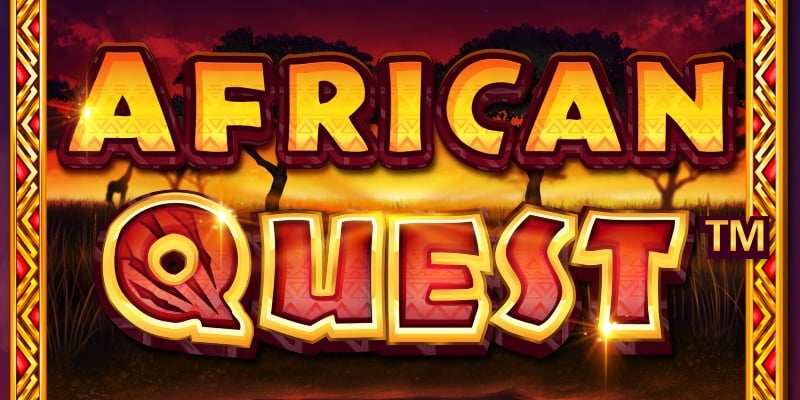 Source: Microgaming
If your New Year's Resolution is to have more adventure in your life, then get ready for the safari that will make your dreams come true. You can search for gold and explore the mysteries of Africa when you play African Quest. It's out at the Spin Palace online casino starting January 21st, 2020. In the meantime, head over to Spin Palace to check out other great slots and casino favorites.
A wild take on a classic
You may have played a lot of online slots before, but African Quest can show you slots like you've never seen them before. The game is set up five reels with four tiles each, letting you spin for your chance to win, but the fun really starts when you discover the game's special features. You'll enjoy features like HYPERSPINS, which increase your chances of finishing winning combinations, or free spins rounds that can be retriggered to really let you rack up the winnings. You even get to choose from options for volatility during the free spins round to make your safari just how you dreamed it.
Explore the sights and sounds
Get to know the landscape of the huge continent of Africa. African Quest will take you deep into the savannah, where you'll see the rippling grasses, canopied trees, and a beautiful golden sunset. As the sun slips down, the wildlife will come out to play…or to prowl. You'll see flocks of zebra and giraffes, impressive families of elephants, and fearsome rhinos. If you're lucky, you'll come across the king of the food chain—the majestic lion.
Kubwa the Mighty Lion is who you're really after on your quest, because he can bring you the riches you seek. His golden mane and fearsome roar will inspire you to play big…so you can be the next king of the wild.
When you play African Quest, you'll enjoy the vibrant graphics and fast, smooth game interface, plus sound effects that complete the scene. It was all created by Triple Edge Studios for Microgaming to deliver you an unforgettable playing experience.
Features and highlights
Your safari may show you some things you've never seen before. So hold on to your hat and get ready for a wild ride through the desert.
The base game has a selection of tiles based on the African desert, plus playing card tiles. You'll see Kubwa the Lion, whose impressive figure appears in stacks to boost your chances at winning big. Moving down the food chain, there are rhinos, elephants, zebras, and giraffes. The wild tile is a beautiful sunset scene, and the Scatter symbol is a golden coin with Africa on its face.
Play your first spin and watch the reels fall into place. If you don't see the winnings you were hoping for, don't worry—African Quest gives you the unique chance to spin a single reel again with HYPERSPINS. You'll see a price at the bottom of each reel, which is the cost of re-spinning that reel to see if you can land the win you have your eye on. Take a chance to line up impressive combinations and go home with gold.
As you play, keep an eye out for those Scatter tiles—landing three or more in a base game spin is your ticket to the free spins round. This onscreen feature starts by letting you choose which option you'd like to play. You can receive more free spins (with a lower bet multiplier) or fewer free spins (with a higher bet multiplier). The way to go is up to you! You could have as many as 40 free spins, plus a chance at an extended free spins round when you land two or more Scatters on a free spin.
The free spins round also has random wild multipliers. Land at least one wild on a free spin and you'll be awarded a multiplier. This can be combined with any multipliers that are already in play, with the ultimate luck getting you a huge 64x multiplier to play during the free spins round.

Source: Microgaming
Game details
You're in the driver's seat on your safari—so you get to decide when and where you play. African Quest is available online so you can play on the go whenever you want. If you want to play a low-stakes game, play the minimum bet of .10. Or, increase your bet to up to 15 for bigger potential winnings. There are a bunch of different ways to win, with an impressive 1024 pay lines.
African Quest has very high volatility, and a total hit frequency of 1 in 4.17 (23.99%). The payout percentage starts at 96.02%, with a boost to 96.52% when you play the re-spins feature. With re-spins, you boost your maximum potential wins to 40,200.
Don't wait until you can make it all the way to Africa to enjoy the spoils of a safari. When you play African Quest, you'll find yourself deep in the middle of the savannah with the chance to win big. The game's special features and free spins round will make every game an exciting experience.