Age Of Conquest - High Fantasy
Entertainment, Gambling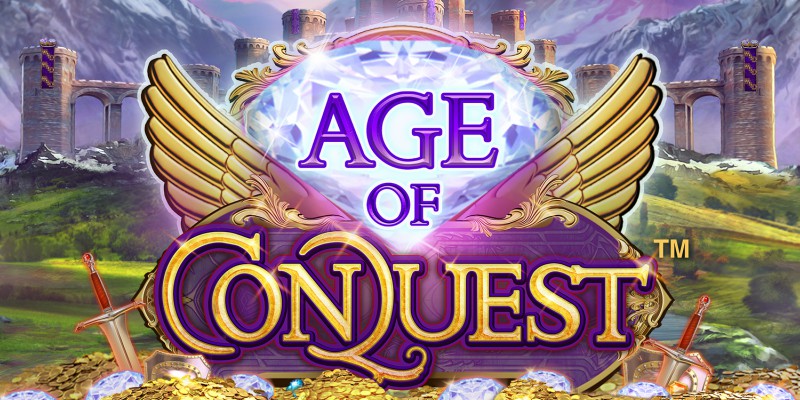 Source: Microgaming
For lovers of high fantasy and epic legends, Age of Conquest is here. Expect a dose of swords, sorcery, mysticism, and melee in an exciting new online slots adventure. All this is presented with richly detailed art and polished gameplay from Microgaming and Neon Valley Studios. Players can set forth on an adventure with Age of Conquest, or try many other slots or table games like online Blackjack at Spin Palace online casino.
High-fantasy flare
The setting for Age of Conquest is a mythical battlefield against the backdrop of a formidable mountain castle. Within this castle the forces of light and dark clash in an epic battle to seize control of the kingdom and the treasures inside..
The forces of light are led by a young elven knight who leads his army of men from atop his armoured mount. The forces of dark are led by a mystical sorceress who rides a mighty griffin, commanding an army of sorcerers who wield ancient and powerful magic. While both sides vie for control of the castle and the riches of it's glittering throne room, only one can be the victor.
Age of Conquest features the standard slots symbols of Ace, King, Queen, Jack and Wilds. In addition to these the game also has high symbols represented by the elf knight and the mystical sorceress, as well as their trusty mounts, the horse and griffin. The two combatants' weapons also appear in the form of the warrior's sword and shield, and the sorceress's magical potion. The castle's glittering throne also makes an appearance as the game's Scatter symbol.
The most lucrative symbols in Age of Conquest are probably the powerful and coveted diamonds. Landing a diamond on a reel collects the diamond on a counter above the reel. Once two diamonds have been collected a full Wild is awarded for the next two spins.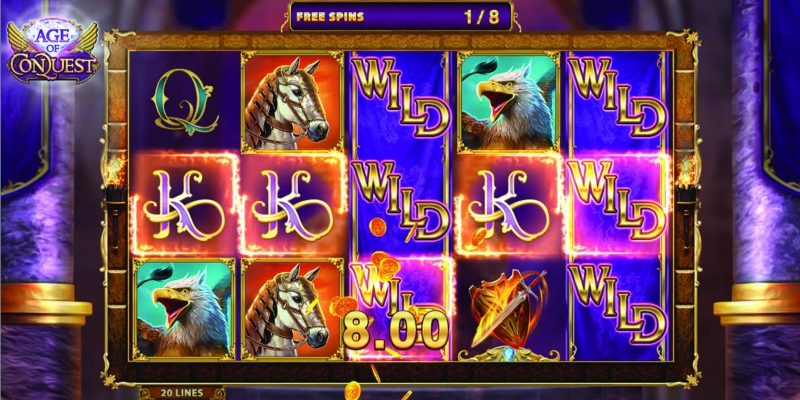 Source: Microgaming
Fantastic fantasy features
There are a few things players should take note of before setting off on their adventure with Age of Conquest.
As mentioned, collecting two diamonds on a reel will trigger the Wild reel feature during which all positions on that reel will turn Wild. These Wild reels are active for two wagered spins. Wild symbols can substitute any symbol except for diamond and Scatter symbols. Diamonds are also not collected on active Wild reels.
The high symbols of the elf warrior and sorceress also have the chance of landing as stacked symbols. Doing so shows the beautifully drawn artwork in full and gives a possible chance for epic winnings.
There are Scatter symbols in the form of the castle's grand throne. These symbols appear on the 1, 3, and 5 reels. Landing 3 of these symbols awards 2x the total amount bet. These wins are then added to the line wins.
Landing 3 Scatters also trigger the Free Spins selection which can lead to 1 of 3 Free Spins features. Feature 1 offers 2 Free Spins with 3 Wild reels per spin. Feature 2 has 8 Free Spins, but only 2 Wild reels per spin. Feature 3 offers a massive 25 Free Spins, but will only have 1 Wild reel per spin.
The Wild reels during Free Spins will appear in different positions with each Free Spin. Free Spin Scatters can also appear on Wild reels and will shine through from underneath the Wild reels. Landing 3 more Scatters will retrigger more Free Spins. All bets during Free Spins are the same as the spin that triggered them.
Managing to land a full retrigger offers players the chance of winning up to 10 000 times their bet.
Adventuring by the numbers
Age of Conquest is a medium volatility online slots game that features 5 x 3 spinning reels. The game also features 20 possible paylines that always pay from left to right. Line wins are multiplied by the bet per line and only the highest win is paid per line. The game also boasts a payout percentage of 96.14% and a total hit frequency of 27.30%.
The default coin size for Age of Conquest is .01, while the number of coins allowed tops out at 5, which is also the default coin amount. The recommended coin size varies between .01 all the way to 2.00. This means a maximum bet of 200, with a minimum bet of 0.20 and a default value of just 1.00.
Time to journey forth
Players who feel they're ready to see the epic legend of Age of Conquest should have everything they need to begin their online slots journey. Those who do will find a colourful slots game reminiscent of their favourite fantasy stories. Spin Palace online casino offers this and many other online slots and table games like online Roulette.