Travel back to the long-lost age of King Arthur
Entertainment, Gambling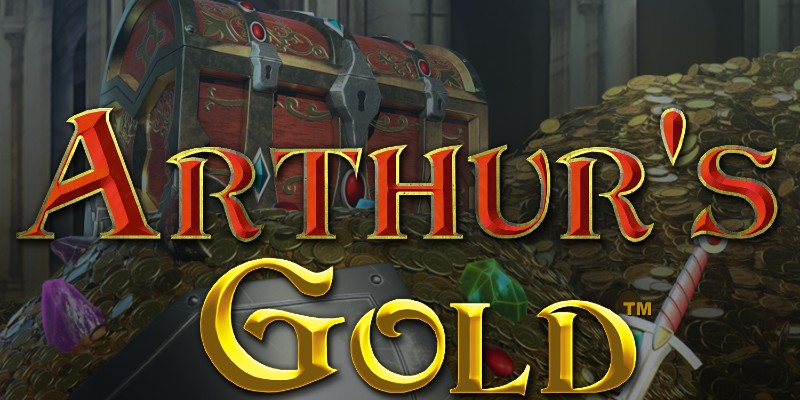 From across the mists of time and the age of legends, King Arthur beckons to us. What secrets did he find during his heroic quest for the Grail, and what mysteries have lain hidden for over a 1000 years? Do you yearn to visit this lost age? To travel alongside the Knights of the Round Table, Guinevere and Merlin and follow in the footsteps of this famous king? The wait is over! We are delighted to announce the arrival of the online casino slot game, Arthur's Gold™, specially designed to capture the essence of the early Medieval age! Suit up your armour, saddle your horse, and prepare yourself for the thrill of Arthur's Gold beginning from 20 July 2020.
Uncovering Arthur's Gold
Arthur's Gold™ is a 5-reel and 3-row slots online game developed by Nevada-based Gold Coin Studios and Microgaming. Founded by industry veterans with over 200 combined years of gaming experience, Arthur's Gold™ brings the exciting tales and adventures of the renowned King to your favourite online casino. The game offers numerous free spin opportunities for players combined with a prize of £80,375, providing edge of the seat entertainment.
Style And Design Of Arthur's Gold™
Arthur's Gold™ revolves around the legendary early medieval King of Britain, whose tales of adventure and heroism have entertained and enthralled people for centuries. The mix of medieval and fantasy themes shapes the snappy visuals and sharp design of this new game. From the coin ladened backdrop of a medieval stone hall, to the framing flourishes of the slots, the design is seamless and harks back to this earlier age.
The host of characters are finely detailed with, for example, a stern Arthur resplendent in heavy golden armour whilst Merlin is cowled in a blue wizard's robe, suitably enigmatic. The beautiful Guinevere and Viviane wear flowing medieval dresses, whilst the heroic Lancelot, most renowned of the Knights of the Round table, is dressed in court clothes. Gold Coin Studios attention to detail continues with the medieval theme informing the crossed swords and shield design of the Wilds and the use of distinctive lettering.
The release of Arthur's Gold™ is perfectly timed for players to enjoy the escapism of King Arthur's legendary adventures. From castles and kings, to knights and fair maidens, this new slots online game evokes the exciting spirit of this lost age.
With so much focus to detail, the game offers an immersive experience inside the range of screen options including 16:9 Widescreen, 4:3 Standard, and portrait variants.
The Game Mechanics Of Arthur's Gold
Arthur's Gold™ uses five reels and three rows to create multiple ways of winning, combining a remarkable 10 of a kind pays and a Free Spins bonus that features Re-Spins with up to 3 reels of Expanding Wilds for further excitement. The game includes a Double Up feature, which combined with Wilds leads to a significant multiplier. Depending on the bet and multipliers the prize money sits at a respectable £80,375. Wins are awarded from left to right with the Scatter Symbol paying in any position.
Now to the maths behind Arthur's Gold™. The RTP (return-to-player) is above average at 96.19%. Due to its high volatility, the hit frequency is 30.31% (or once in every 3.29 spins), which is higher than average. This is a much higher return than actual metal detecting for medieval gold! The default coin size is 0.01 and the minimum and maximum bets are 0.20 and 50.00.
Arthur's Gold™ includes several exciting features built around the appearance of the famous medieval characters. Landing a double Arthur, Lancelot, Guinevere, Merlin or Viviane counts as two of the same symbols in a single reel. Added to this, Wilds count as double when substituting for high symbols. This enables successful lines to trigger from just two symbols or leads to the amazing potential of lines with ten high symbols caused by, for example, five doubles. More Merlins than you can count! A further bonus can be activated when Arthur's Gold™ Free Spins Bonus appears in the form of a medieval treasure chest on reels 3, 4, or 5!
The Search For Arthur's Gold™
From the finely detailed characters and seamless medieval theme, to the amazing possibilities of integrating Wilds and Double Ups in Arthur's Gold™, Gold Coin Studios has created a fun and evocative online slot game. This is a fantastic looking game with edge of the seat excitement built in. So, grab your sword, saddle up, and have fun questing alongside the renowned characters of Arthurian legend from 20 July 2020.