5 Ways Casino Apps Improve Online Gaming
Casino News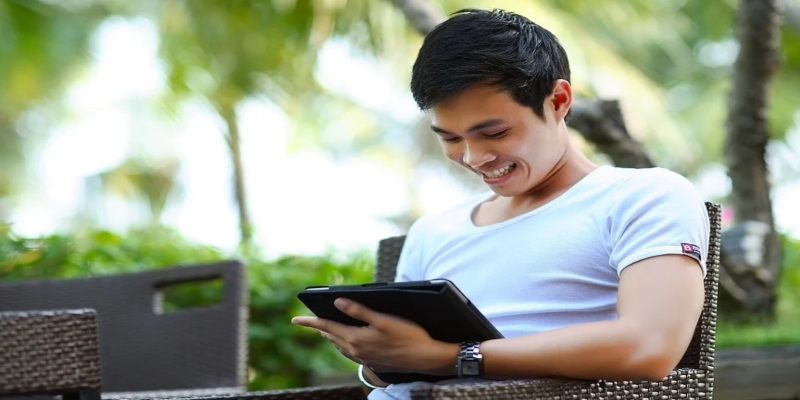 Source: Cuncon Photos from Pixabay
We'd be willing to bet that your smart phone isn't far away right now—or even that it's in your hand as you read this. We take our phones everywhere and rely on them for just about everything, like news, entertainment, and staying connected. So if you love playing online casino games, using a casino app to access your favorite games is a no-brainer. Spin Casino's mobile casino app offers engaging and responsive technology so you can enjoy all the best games no matter where you are.
Playing online casino games is already super convenient, because it lets you play any time without having to visit an expensive, crowded on-land casino. But you can take the fun to the next level when you download a casino app to your device, opening up a world of gambling possibilities. Here are 5 reasons to start playing in a casino app.
1. Unbeatable Convenience
Let's be honest: we take our phones everywhere and spend a lot of time on them. So when you have a casino app on your phone, there's never a dull moment…no matter how long your commute is or how long you're waiting around for your friends to show up. All you have to do is open up the Spin Palace app and you'll have an endless source of entertainment at your fingertips. You can play a quick game to pass the time when you're on the go or settle in for a relaxing evening on the sofa with your favorite game.
All you need to play at the mobile casino is a smart device and an internet connection. Then you're ready to go! You can take the fun to the next level with good headphones or even the larger screen offered on a tablet, which will give you a more immersive experience. It's never been easier to access all the best games, no matter where you find yourself. Don't limit yourself to scrolling a news feed or playing the same old boring games—you could be playing for a chance to win real cash!
2. The Variety of Games
Spin Palace has a huge selection of fun casino games, with everything imaginable from poker to roulette to slots. And, the offerings are always being updated so you can stay on top of the latest trends in online gaming.
Slots are one of the most popular games to play on the go, because they're easy to play and well-suited to a small screen. Whether you want to take a few spins on a classic 5-reel game or get into a themed video slot from your favorite franchise, there's a slot for everyone. Mega jackpot games and progressive slots make for an even more enthralling time, because you have the chance to rake in even more cash.
You can also play casino classics like blackjack, roulette, and poker in a mobile casino app. Just because they're on a small screen doesn't make the fun any smaller. You'll love the ability to play a few hands or take a spin wherever you go. Spin Palace has a ton of different variations on casino mainstays, so you can play a fresh twist on an old favorite or learn the basics of a new game that you've always wanted to try.
3. In-App Rewards
The benefits of playing online casino games in an app don't end with the entertainment. You can also find special perks that are available to app users. You'll feel like an exclusive VIP when you're rewarded for your loyalty as part of our Loyalty Points program. Having the app also gives you instant access to new releases and shows you what games are hot today, including big progressive jackpots and seasonal specials.
4. Safety and Security
You don't have to sweat about the safety of your data and information when you play at Spin Palace, even in our mobile app. We take the same great security steps on our mobile app as we do on our desktop site, ensuring that your banking info and personal details are protected.
At Spin Palace, your banking details are always encrypted for extra security. As always, you'll find several convenient banking options for funding your account and withdrawing any winnings as you wish. All of our payment methods are proven and secure so you can spend more time playing and less time fussing with the details.
Spin Palace is also regulated and licensed by the Lotteries and Gaming Authority of Malta, so you know that our games are fair and legitimate. We also use the best gaming software from Microgaming and regularly have our games reviewed by impartial auditors so you get the best experience every time.
5. An Optimized Experience
When you play in the Spin Palace mobile casino app, you'll enjoy a streamlined version of our site that's meant to be enjoyed on mobile. You won't have to worry about hard-to-read text or buttons that are too small to tap. We've optimized the appearance and mechanics so you can have just as much fun playing from the small screen of your mobile phone or tablet as you have when you play on desktop.
Our mobile-friendly games are set up so that you can still see everything that's going on, whether you're playing a poker tournament or just spinning at the slot machines. Plus, you get the same great email and live chat support that our players count on when they play on the desktop site. If you ever come across any glitches or have questions, help is just a click away.
To make the most of the mobile gaming experience, always make sure you're playing with a good internet connection. If you're at home, a steady Wi-Fi connection will do. When you're playing on the go, make sure that you won't lose coverage, which could interrupt game play.
Source: nastya_gepp from Pixabay
Ready to Play?
If you're a Spin Palace regular, you can use your existing account to start playing on our mobile app. Just download the app for Android or iOS and you'll be able to access our awesome selection of games from wherever you are. New to Spin Palace? You can sign up for a new account when you download the app. You'll need to provide your personal information and banking details as part of registration, and then you'll have our whole variety of games right at your fingertips!
It's never been easier to enjoy mobile casino games, so get ready to up your smartphone entertainment game. You'll love having the chance to win some real money while you play games to pass the time—no matter where you are!