Top Six Board Games For Adults
Entertainment, Lifestyle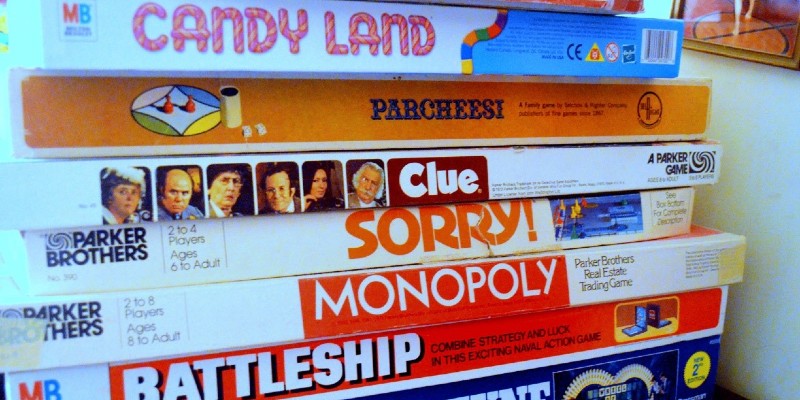 Source: Peter Griffin
In the age of realistic videogames on PC and game consoles like Xbox, PlayStation and Wii, you could be forgiven for thinking that board games have become extinct. However, board game sales have actually been growing steadily over the years – analysts even predict that sales revenue will almost double from $7.2 billion in 2017 to $12 billion in 2023! And the trend is not just a temporary one simply because they were featured on popular TV shows like The Big Bang Theory and Stranger Things.
Board games are powerful social tools that bring people together and create a sense of camaraderie even among strangers. They also provide a respite from the stress and technological overload of modern life. Some organisations even use adult board games as team building tools during retreats.
In fact, even Spin Palace's mobile casino community members turn to adult board games when they need a break from playing their favourite online casino games. Many players schedule weekly gatherings with their besties and among themselves to play board games.
If you're thinking of starting your own adult board games tradition, here are our top six picks to get you started!
1. Cards Against Humanity
Cards Against Humanity was conceived in 2011 by eight former high school friends. The concept behind the cult game is simple – one player has a card with an incomplete sentence and another has a funny and frequently profane phrase to complete the sentence. Yes, it's an R-rated game that is definitely not suitable for children. In fact, the game's tagline is that it's a game "for horrible people"! Despite the simple and scandalous premise, the $25 game is a bestseller!
Gameplay: 
Cards Against Humanity has no player limit, but a game played with six to eight players is considered ideal. Each player is handed ten White cards, and the player who pooped last (yes, this is in the rule book) becomes the Card Czar. The Card Czar picks a Black Card and read the question. Everyone else fills in the blank by selecting one of the White cards. The Card Czar shuffles the cards and starts reading. Hilarity ensues.
2. Seven Wonders
Seven Wonders is a civilisation/worldbuilding game set in the world of antiquity. First released in 2010 by French game designer Antoine Bauza, Seven Wonders is the most awarded board game ever, with over 30 awards won thus far. This game is like the Microgaming of the online casino world.
Gameplay: 
Each player (two to seven players) randomly receives one board that depicts one of the original Seven Wonders of the Ancient World.
Players then draw different coloured cards which give them coins, raw materials and other resources to develop and build their civilisation.
3. Codenames
Codenames, the 2016 winner of the "Board Game of the Year" award, is a guessing game which has taken the gaming world by storm (a small storm, to be fair). Players are undercover spies in the game, and their objective is to contact their agents before other players do while avoiding the dreaded assassin.
Gameplay: 
If you've ever watched Jimmy Fallon playing 'Password' with his guests on The Tonight Show, then you pretty much know how to play the game. The key is deciphering the hint given by the Spymaster.
4. The Voting Game
The Voting Game is a game that digs secrets and inconvenient truths from participants. Players take turns to vote on answers to questions. Winning sometimes doesn't even matter – the journey is sometimes even more rewarding.
Gameplay:
The game, which can accommodate up to ten players, comes with 160 Question Cards and 90 Voting Cards. Players take turns to answer questions, and everyone votes, including the asker. The player who receives at least half of the votes gets to keep a black card. The game ends when a player manages to obtain six black cards.
5. Settlers Of Catan
Catan, as the game has been officially known from the fifth edition onwards, is a complex RPG-like board game. Players play the role of settlers who attempt to build colonies by acquiring and trading in-game resources. Catan, which was created by Klaus Teuber in 1995, can sometimes take up to two hours to finish, so it's the perfect game for the weekends.
In addition, owing to the multiple versions and art designs, as well as various expansion packs, the game has become a collectible. So, if you already own an old copy, box it up and keep it inside a safe – it might be worth a moderate amount of money in a few decades. Or not.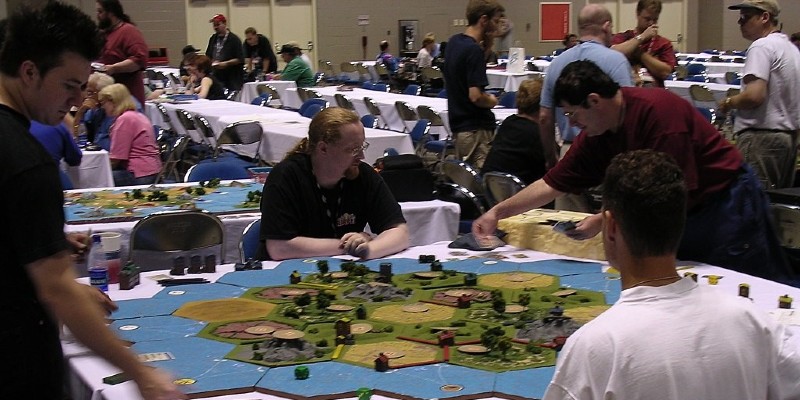 Source: Source: Alan De Smet / CC BY
Gameplay: 
Game parts and pieces, consisting of terrains, resources, military units, landmarks, etc., are distributed to players. Players then build their settlements and earn accomplishments to win points. The first player to score ten points win. The game is very engrossing. So much so, players might even be tempted to switch off their mobile casino app in favour of another round of Catan.
6. What Do You Meme?
Launched in 2016 following a successful Kickstarter campaign, What Do You Meme is a humorous, less vulgar version of Cards Against Humanity. It also has pictures, because memes without pictures are just unfunny one-liners.
Gameplay: 
Up to twenty players can play the game. One player chooses a meme card, and everyone else tries to pair it with a caption card. The original player chooses the funniest combination. The person who gave the winning caption gets a point.
Do you have a favourite board game that you'd like to share? Let us know in the comments below!