Deco Diamonds Lead To Sparkling Wins
Deco Diamonds, Slot game review, Just For The Win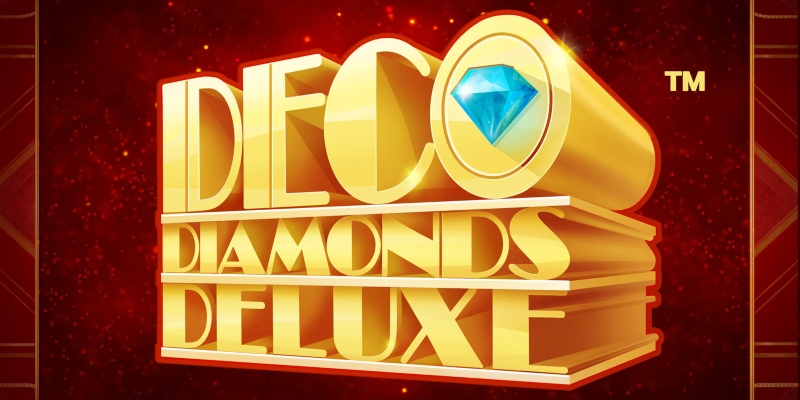 Source: Microgaming
Magically step into the Roaring Twenties with Deco Diamonds Deluxe, a new slot game from Just For The Win (JFTW) and Microgaming. Filled with glitzy graphics, high-rolling prizes, and old school fruit symbols, this fun game will transport you to nonstop adventure. You will experience the chance to combine the thrill of simulating real old slot machines with the classy, swanky atmosphere of the 1920s art and culture. Set to arrive October 9, 2019, at Spin Palace, you can play this slot and our other casino games when you sign up for our online services.
Every month at Spin Palace we get the chance to allow our customers to enjoy new releases from Microgaming, a well-known gaming software developer, and collaborating studios. This title is the latest in the slot games that Microgaming deploys. Discover the basic gameplay and layout of Deco Diamonds with this review. Put on your zoot suit and getting ready to do the Charleston!
Diamonds Are a Gambler's Best Friend
Deco Diamonds springs for a unique combination of traditional slots with a mechanical feel, emblazoned with classic cherry, lemon, and watermelon symbols, and the glamorous décor of Art Deco from the 1920s. Microgaming's signature sound effects produce the satisfying clang of spinning reels and the jazz soundtrack sweeps you into the game as you begin to collect free spins and bonuses. The result is a game that inspires a subtle time travel odyssey as you play for glittering treasures.
This game is also high volatility, which means it is perfect for those gamers who like to pay a little a play long into the night for the big payouts that will come with more bidding. You can expect an RTP (return to payer) rate at 96.03% and 100x payouts accompanying high-value symbols. The highest payout you could possibly achieve is 2323.5x your original bet. Put down as little as .10 or as much as 75 for each new spin. The game is created on a traditional 3x5 grid with nine left-to-right pay lines.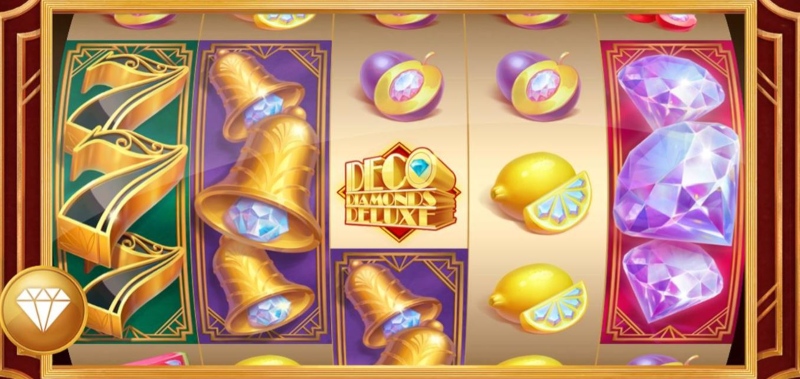 Source: Microgaming
Once you start playing, you will find that low-paying symbols are cherries, plums, lemons, and watermelons, each filled with diamonds. Your high-paying symbols are bells, black sevens, and diamonds, the last of which pays you 200x your bet when five are collected.
Deco Diamonds also has wild symbols in store which can substitute all other symbols. The wild is the Deco Diamonds Deluxe logo. These handy symbols will also trigger a re-spin or Bonus Wheel feature when you land enough of them.
Jazzy Features
Deco Diamonds Deluxe is actually a reboot of another Deco Diamonds game, also created by JFTW and Microgaming. This time around, Deco Diamonds has some new features, including the 3-Tier Bonus Wheel.
Re-Spin
Like the first game, the Re-Spin feature is in the base game. Land, two, three, or four wilds to trigger an extra spin. Once Re-Spin activates, the locking reels mechanism takes place. All reels with a wild lock and the others spin. Land another wild during the free spin and get a second one. The Re-Spin continues until no more wild symbols appear or all the reels contain all wilds.
Just For The Boost and Nudge Feature
You will also find a feature called Just For The Boost. This feature turns on before or after a spin but never during a spin. Engaging this boost feature allows you to increase your bet by 50%.
Whenever you activate the Just For The Boost, you also turn on the Deco Diamonds Deluxe Symbol Nudge. This "nudge" occurs when any wild symbol lands beyond the 5x3 reel zone. The Nudge feature bumps the reel over one position, placing the wild within the play grid.

Source: Microgaming
Bonus Wheel
The Bonus Wheel is the big draw with this upgraded Deco Diamonds version. When you drop three, four, or five wild symbols, you have the chance to trigger the Bonus Wheel, which is split into three tiers: Silver, Gold, and Diamond. Three trigger Silver, four spark Gold, and five will score you Diamond. If you score Silver, you will unlock 5x, 8x, 18x, 58x, or 80x your total stake. Spin the wheel and land on Gold to unlock 8x, 18x, 58x, 98x, or 588x your bet. Diamond, the supreme level, maxes the payout times your total bet to 588x and 1000x. Imagine the change in your luck with the simple flick of a wheel! Once the wheel stops, locate your prize on the tile and find the award attached to your paytable configuration.
Another tile to keep an eye out for on the Bonus Wheel is Level-Up. This prize allows you to upgrade from Silver to Gold or Gold to Diamond, upping the results of the spin. Using a random number generator (RNG), Deco Diamonds ensures that your Bonus Wheel prizes are always fair.
Deco Diamonds Is Swinging Fun
If you are looking for a new, fast-paced slot machine to get your adrenaline dancing, try Deco Diamonds. Feel like a class act amidst Art Deco and slick visuals as you spin these fruity slots. Stop by Spin Palace and try it on for size.