Become A Roulette VIP With Sarati
If you want to be part of an exclusive roulette experience, don't miss the limited advance release of Real Roulette with Sarati. It's available now in an exclusive number of online casino until December 31st. Get in the game now for a VIP experience.

Source:Microgaming
Meet your dealer
If you love the convenience of playing in an online casino, whenever and wherever, but still miss the authentic feel of playing in an on-land casino, then you'll love the VIP treatment offered by Real Roulette with Sarati. Sarati is your stunning host at the roulette table, and she's dedicated to making sure you have the best online roulette experience possible.
As you play, you can make bets on numbers, colors, and ranges just like you would at a roulette table in a Vegas casino. You'll be able to watch the wheel spin and the ball fall into place during each round for a real-feel experience.
Sarati, your beautiful blonde dealer, is waiting at the table to greet you with a smile. She calls out your bets and ensures accurate gameplay so you can get the most out of your roulette experience. She'll also make commentary as the game unfolds, so you can enjoy some banter while you rake in the chips.
About the platform
Real Roulette uses advanced cinema techniques and a professional actress and audio to offer you a deluxe roulette experience. You can immerse yourself in the action with the cutting-edge visual quality, sound effects, and interactive gaming. This game was made possible by Real Dealer Studios and Microgaming, combining creativity with a passion the best in online gaming. Real Dealer games promise the closest experience to sitting down at the casino table, but without having to leave the comfort of your own home.
Don't worry about having your experience ruined by lagging video or fuzzy graphics. Real Roulette uses fast streaming and amazing graphics to give you a real-life roulette experience. Wherever you have your phone, you can have Sarati too, just a tap away. Choose from portrait or landscape views for the best vantage point of the table. Interruptions are no problem—you can pick up where you left off if you're interrupted during a game.
If you're playing from a computer, desktop mode is available for a larger-screen view of the action. Wherever you play, you'll have a great view of the roulette table and stats at the ready.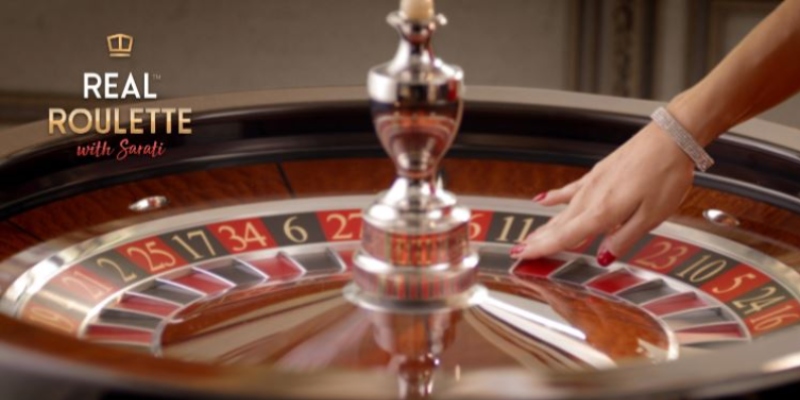 Source:Microgaming
Special features and stats
Real Roulette has everything a casino roulette table has and more. You can play your favorite bets and use your favorite strategies as usual, or you can even set six custom Favorite Bets and choose from popular Special Bets to personalize your gaming experience. Plus, with Real Roulette, you can also enjoy bonus features like Racetrack Bets on a different table layout to add a new twist to this old favorite.
How do you want to win? Real Roulette with Sarati has maximum winnings of up to 64,500. With an RTP of 97.30% and a hit rate of 48.65%, you'll love the thrill of watching the wheel spin and trying your luck at one of the world's favorite casino games. You can play quick low stakes games with minimum bets of .25 or go big with a maximum bet of 1,000.
If you want to get strategic, you'll love the statistics feature. You can review the statistics within the game to see which numbers are coming in hot or cold and plan your next move. You'll also see history and stats of your bets listed.
Don't settle for less than the best
Sarati is here to make sure that you don't miss out on any of the fun of playing in a real on-land casino. You'll enjoy the same sights and sounds that make playing roulette at the casino so enticing, but you'll have all the comfort and convenience of being able to play from your mobile device.
And now, you're invited to be a VIP—the release is limited to exclusive online casinos until the end of the year, so you can meet your radiant host before everyone else does. You won't want to miss an opportunity to play with online gaming's most dazzling dealer, who will always be there to cheer you on with a smile. Whether you put on your tux and make a night of it or just want to get a quick game in during your downtime around the house, you'll feel like Vegas royalty when you're playing with Sarati.
Source:Microgaming