Lead The Quest For Glory With Fortress Charge
Entertainment, Gambling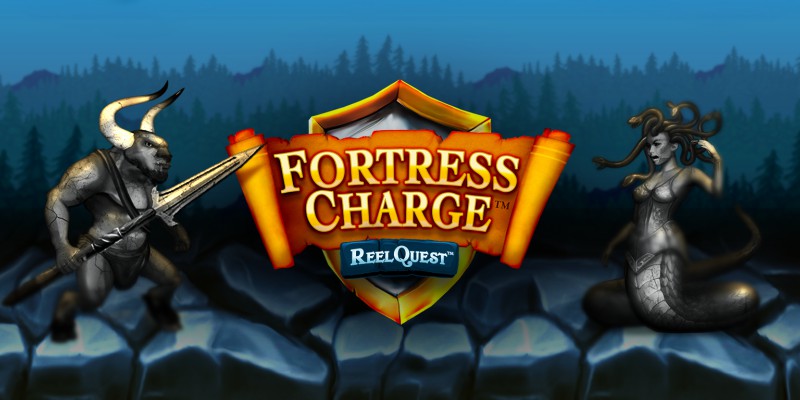 Source: Crazy Tooth Studio
Embark on an amazing fantasy medieval adventure with Fortress Charge, Microgaming's latest online slot game. Designed by Crazy Tooth Studio®, a Nevada-based casino game development studio, Fortress Charge is an all-action 6-reel and 3-row slot game that brings you all the familiar elements of sword and sorcery adventures. Battle against mystical villains as you make your way to life-changing riches at Spin Palace online casino starting from 11 June 2020!
Theme Of Fortress Charge
While fantasy and Arthurian themes are common in the slots online world, the developers have crafted a game environment of exceptionally high quality that rises above the competition. Even the array of avatars used in the game are quite extensive, and each is distinctive in design, with clean lines and vivid colours. That said, we do wonder why the elven hero is armed with an axe instead of a bow.
The heroes are represented by the usual knights, elves and dwarfs, and the not so usual dragons and Minotaurs. The villains are represented by ogres, Medusa-like creatures and scorpions, as well as inanimate spikes and boulders. Who knew boulders could be villains? Even Dirk Gently would be impressed.
Other reel icons used in the game include fire potions, spears, shields, wands, treasure chests and fortresses. The reels and dashboard hover over a background image of a fortified stone rampart, which further helps to enhance the medieval feel of Fortress Charge.
Gameplay And Features Of Fortress Charge
This six-reel and three-row slot game has a slightly complicated quest-based gameplay called Reel Quest, but the rewards are worth the effort. It's clear that the developers have put a lot of thought and effort to create this one of a kind gameplay that very few slots online games in any online casino could match.
Players begin by trying to land one of the hero or villain avatars on the first reel. Once you succeed, they will shift one spot to the right. However, if the slot on the right contains an opposing faction avatar, they will have to defeat them first before they can move.
At times, avatars will require one of the accessories, such as the fire potion or spear, to defeat its opponent. If the slot on the right contains a treasure chest, then players will earn bonuses or multipliers that will increase the total yield of the spin. If the slot is empty, the game avatar can shift unchallenged.
Players will win the top prize once they reach the end of the row. The game ends if no heroes land on a spin or when all advancing heroes or villains are defeated. If you defeat opponents on reels three, four or five, additional multipliers of between two and four will be added to the pay-out.
In the event of malfunctions (error, disconnection, etc.), all plays and prizes will be voided.
There are only three paylines in the game, but there is a €100 bonus if your hero or villain defeats a specific set of opponents. For instance, you will earn €100 if your Dragon Hero defeats the ogre and spike villain.
Statistics Of Fortress Charge
Fortress Charge is a challenging and high-impact game that will test your prowess. It has a good pay-out percentage of 96.45%, but the game is very volatile and its total hit frequency is a lowly 12.32%. This means the chances of winning will be smaller, but the pay-outs will be much higher. It's worth pointing out that the maximum win value is 240,000 credits, or an incredible 16,000x your bet value! Talk about life-changing fortunes!
The game has a default and recommended coin size of 0.01 coins, while the default number of coins is set at 150. The default bet amount is 1.50 credits, but players can go as low as 0.10 credits and as high as 15.00 credits. Fortress Charge has in-game multipliers of 2x, 4x, 8x, and 16x.
Fortress Charge provides a free game option to allow players to acclimatise with the game mechanics – we strongly urge you to utilise this first to get an understanding of the game mechanics. The developers have also included support for 31 languages.
The game has a dynamic scaling feature, so it is compatible with any screen size.
Conclusion
Fortress Charge is a unicorn among online slot games – there is no other comparable game. It has brilliant production values, even more brilliant gameplay, and very lucrative pay-outs. It might take some getting used to, but Fortress Charge is an exceptional game! Some come on over on 11 June and give the game a try!