Find The Lost Sphinx…And Great Winnings!
Online casino, Online slots, Adventure slots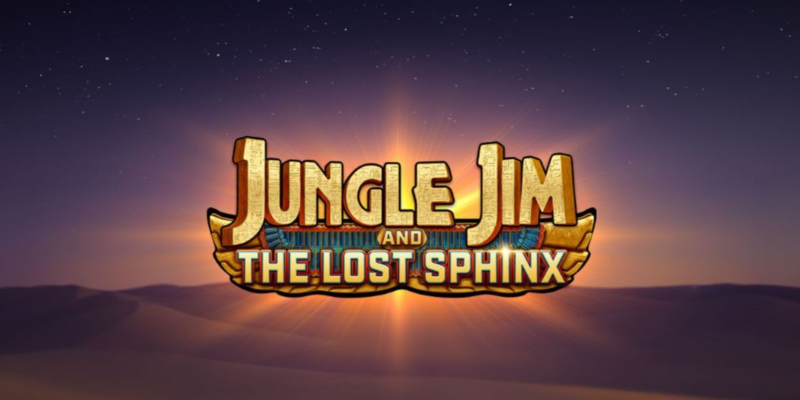 Source: Microgaming
Take a daring journey when you play Jungle Jim and The Lost Sphinx, available in Spin Palace's online casino starting 6 November. Jungle Jim is back and ready for adventure in this new game from Stormcraft Studios. He needs your help to find the lost sphinx…and you can find some winnings for yourself along the way!
Jungle Jim's latest adventure awaits
We've met Jungle Jim before in the popular slot El Dorado, and now he's back for more with the next chapter of his adventure. This time he's hunting the secret chamber of the Lost Sphinx, which holds immense treasures and a long-lost relic. The game's fun animations and great graphics, designed by Stormcraft Studios for Microgaming, immerse players in Jungle Jim's world. The vivid graphics are accompanied by a background soundtrack that will keep build anticipation as you move toward the hidden chamber to claim your prize!
You'll follow Jungle Jim to the Egyptian desert, where you'll take a spin on classic slot with tons of unique features. The base game starts on a 5x4 grid with Rolling Reels™ and 35 pay lines, but this gets upgraded to a 5x5 grid with 50 pay lines in the Free Spins round or after you score 3 rolling wins in the base game. You might know Rolling Reels from other slots—this much-loved feature gives you multiple wins from a single roll. Players will love that they have even more extra chances to win with bonus features, multipliers, and free spins. If that isn't enough, you can give yourself an even higher chance of winning with Win Booster™.
Speed toward the treasure with special features
Jungle Jim has lots of tricks up his sleeve that will get you on your way toward the treasure, and keep the excitement building as you play. There's never a dull moment when you're following Jungle Jim!
Look out for these special symbols while you're playing:
Scatters: Increase your winnings in the base game with Jungle Jim's Scatter symbols. Scatters are added to pay line wins after all rolls are complete. They'll pay in any position so you can rack up your rewards.
Wilds: Wild symbols can appear on Reels 2, 3, 4 and 5 and can stand in for any symbol except the Scatter or the Sphinx.
Sphinx Symbol: The Sphinx Symbol can appear on reel 3. This symbol triggers a roll and awards an additional spin, plus it boosts the Multiplier Trail for winnings on winnings!
Plus, you'll win even more with these game features:
Rolling Reels™: Rolls and trails give you a great way to increase your winnings with multiple consecutive wins in both the Base Game and Free Spins Game. This feature removes winning symbols after they land, and then new symbols are rolled into their positions. As rolls occur, your multiplier trail is increased by one level until you get to Level 5. In the Base Game, you start at Level 0 (5x4 grid with 35 pay lines), then Level 1 (2x multiplier), Level 2 (3x multiplier), Level 3 (4x multiplier plus a change over to the 5x5 grid with 50 pay lines), Level 4 (5x multiplier) and Level 5 (10x multiplier). The trail resets if you don't win on a roll—but if you don't win after the 3rd roll, you'll get a Respin for another chance to continue. All this means that rolling once could result in multiple wins in a row…you'll just sit back and watch the coins roll in!
Free Spins: Trigger the Free Spins round with 3 or more scatters and you'll get a bonus 12 Free Spins that carry over your original bet from the Base Game. When you're in the Free Spins round, you'll get an increasing multiplier trail similar to the one in the Base Game, but with higher multipliers…up to 20x in Level 5! Plus, all spins in the Free Spins round are played out on a 5x5 grid with 50 pay lines. At the end of the Free Spins feature, you'll collect stars based on how much you won.
Win Booster™: If you want to up your winnings fast, you can play with the Win Booster™ turned on. This side bet can be selected in the Base Game and carries over into Free Spins. It increases your chances of winning by unlocking an additional Scatter tile that's placed outside the reels and will boost your chances at scoring a Free Spins round (you only have to land 2 additional scatters to trigger the Free Spins Round). It will also increase your bet for higher winnings when luck strikes.
With Jungle Jim, there's not just one way to win. The desert is full of adventures and mysteries that will keep your wins rolling in, and the excitement never stops. It has a great win potential, with a chance of up to 6250x your bet on a single spin. With a minimum bet of .10 and a maximum bet of 20, you can choose how big you want your adventure to be.