Live Dealer Tips For Blackjack Players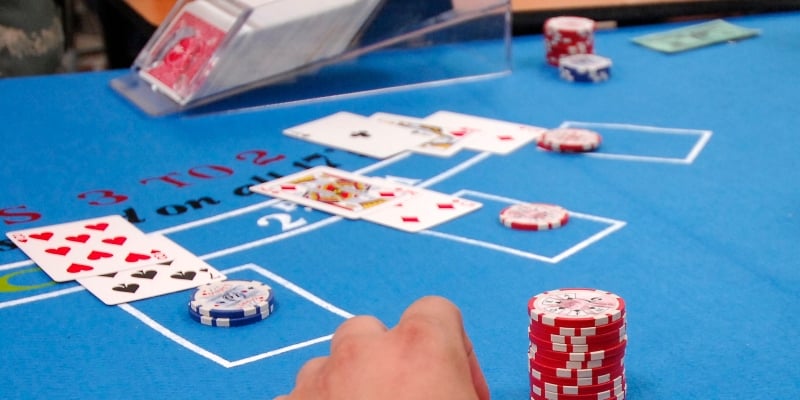 Source: Senior Airman Felicia Juenke
Live blackjack online has only been possible for a few years, but is massively gaining momentum around the world. The possibility of facing a live dealer while still being in the comfort of your own home is a modern luxury, and many are embracing the experience with both arms.
But how does live dealer blackjack differ from other forms of blackjack?
Are their any tips that can help you be a better player?
Let's have a look at some of the details of live online blackjack.
Play Or Bet
One of the most interesting things about live blackjack is that it is possible to both play the game, and bet on games currently in progress. Many prefer to be part of the action and be the player calling the shots, which is only natural, given that the most excitement to be had with blackjack is in the hot seat. But others are okay with a more hands off approach.
The miracle of modern technology allows for those who prefer to observe, or are unable to find a seat, to watch and bet on live games. The option is not available at all live casinos, but is rapidly becoming the norm. And, since so many players want to participate and there are a limited number of seats, it only makes sense to give those who are stuck watching a chance to still be a part of the action. The only thing to keep in mind if you are placing a bet on live games is that the skill of a player is sometimes not part of the factors involved. You may be allowed to bet on the nature of the cards, but not on if a player will win or lose. This may differ from live casino to live casino.
Ensure Your Connection Is Stable
This goes without saying, but if playing at a live casino it is essential that your Internet connection is reliable and stable. A live casino can never be held responsible if you lose connection in the middle of a game, and as a result forfeit a hand. Live casinos will always allow a period of grace, so that you may regain connection and pick up where you left off. If you remain disconnected for too long, however, the hand will forfeit and any placed bets will be lost. It can be a right royal pain in the behind.
It is your personal responsibility to ensure that your Internet connection is stable and reliable. If you have a connection that is prone to being dropped or disconnected, you may wish to rather play standard online blackjack. Live blackjack really is intended for those who are using high speed bandwidth, and who have reliable connections.
Beware Minimum Betting Amounts
As with any blackjack table, live blackjack has minimum and maximum betting limits. It is absolutely essential that you join a table that is not beyond your price range. As a rule of thumb, professional players say that the minimum bet amount should not exceed 5% of your total budget. This may seem like a small amount, but it will ensure that you are not bankrupt before you even start getting into the flow of the game.
Before joining a live blackjack game, look for an indication of what the minimum betting amount is. If the amount is too much, simply look for a table with a lower minimum betting amount. You may also simply rather wish to watch and place bets on currently playing hands, which has a great deal less pressure to perform them being at the table itself. This is a great way for those new to the game to learn without the risk of losing money.
Check Payout Amounts And Decks
Be aware that there are no set payout amounts for live blackjack. Before joining a table check how much is paid out for landing a blackjack. There will be a higher payout amount at some table than other tables. It is, of course, essential to always go with the best offer, as there is simply no benefit to playing at a table that offers lower payout amounts. Compare a number of live casinos and go with the offer that is to your advantage.
The number of card decks used also determines how blackjack plays out. As a rule, blackjack should be played with a single deck of cards, which gives the best statistical odds to the player. If more than one deck is used the odds of the player getting a good hand go down. A live casino will, however, openly state how many decks of cards are used, as well as the above mentioned payout amounts. Check before placing bets, and make sure you give yourself the best chance of doing well. Details such as these can greatly affect a game and its potential outcomes.