Pre-Release Exclusive of Lucky Riches Hyperspins
Entertainment, Gambling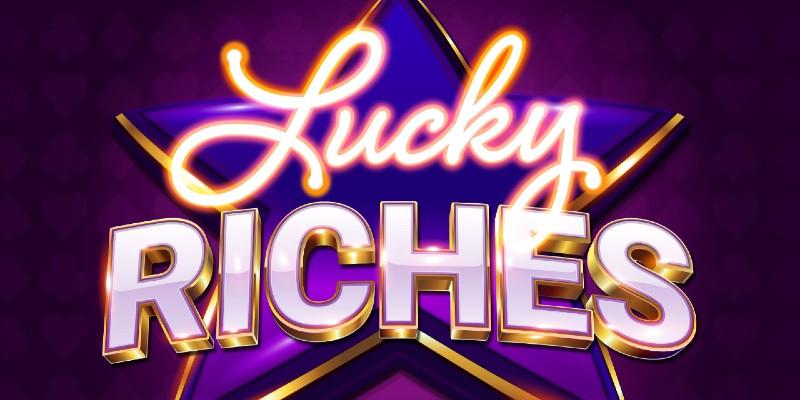 Source: Slingshot Studios
Spin Palace is proud to announce that Microgaming's latest online slot game, Lucky Riches Hyperspins, will be available exclusively on Spin Casino starting from 7 April 2020. For one whole month, you can experience Microgaming's most exciting slots game of 2020 at the best online casino in town! So tell your neighbours and sing to your friends – Lucky Riches Hyperspins is coming to town!
Overview of Lucky Riches Hyperspins
Lucky Riches Hyperspins is a 5 x 3 spinning reels slot game developed by Slingshot Studios, an independent game studio which develops games exclusively for Microgaming. The game theme revolves around a rich opulent lifestyle characterised by bold, bright colours with a faded cityscape serving as the backdrop. 3D letters, numbers, casino chips, bells and dice are used as reel symbols to give a casino-like feel to the game. The beautiful golden borders provide the game with an added touch of luxury. No one will be the least surprised if you feel the urge to put on a tuxedo while playing the game!
The slot game, which offers support in 33 languages, offers dynamic scaling which ensures an optimal game environment regardless of whether you're playing on a personal computer, smartphone or tablet.
Gameplay of Lucky Riches Hyperspins
Like most online slots these days, Lucky Riches Hyperspins allows players to play a free version of the game to get a feel of it. While the game may initially look and play like most of the slot machines found on any online casino, it actually offers more ways to win – 243, left to right, to be exact.
When players deal more than three Scatters anywhere on the five reels, they receive 15 free spins which are allowed to retrigger for more, unlimited free spins! The Scatter symbols are easily recognisable – they contain the text 'Scatter' imposed on a sparkling diamond. Theoretically, you could end up playing for hours with just a single paid spin! However, any changes to the bet amount will deactivate all your remaining free spins.

Source: Slingshot Studios
Scatter-triggered spins will yield winnings multiplied by three. The Wild Symbols are found in reels two and four. They can substitute all symbols on the reels with the exception of the Scatter symbols. Wild symbols, as some of you may already know, are used in place of other symbols to create winning combinations. They function similar to the Joker in a deck of cards. This is why their appearance makes players very excited – they might turn losing reels into winning ones in the blink of an eye.
The game offers a prize of £60,000. Although there are a multitude of ways to win, each spin only entitles players to a single win – the highest. Scatters prizes are paid from any position across the five reels; this includes free spin and respin triggers.
Lucky Riches Hyperspins also includes the popular Hyperspins feature where at the end of a spin, players may respin any reel of their choice for as many times as they like to improve their odds of winning.
Lucky Riches Hyperspins' Prizes And Bets
Lucky Riches Hyperspins offers a jackpot prize of £60,000. The RTP rate is a respectable 96.52% without respins, and a very attractive 97.49% with respins. It has a low volatility rate and boasts of a 37.22% hit frequency.
The bet limits are between 0.25 and 125.00. However, permissible coin sizes include 0.01, 0.02, 0.05, 0.10, 0.20, 0.25 and 0.50 – subject to a maximum of 250 coins.
The paytables for five-reel combos are:
• Number 7: £400
• Casino chips: £250
• BAR: £200
• Bell: £100
• Dice: £50
• Letter A: £20
• Letter K: £20
• Letter Q: £15
• Letter J: £15
Wins are counted left to right, on consecutive reels.
Game results are determined using Microgaming's widely respected random number generator (RNG). An RNG is a computer program which randomly generates billions of numbers every second which are applied into the game to ensure a fair distribution of symbols across the five reels at every spin.

Source: Slingshot Studios
Conclusion
Slingshot Studios and Microgaming initially developed the game to take advantage of their strong game engine and enhance their line-up of paid slot games to appeal to new and seasoned players. However, they seem to have outdone themselves with Lucky Riches Hyperspins.
The game is exciting and promises endless hours of fun for players. Its blend of familiar and new features will make it a firm favourite with many.
So take advantage of our exclusive offer and enjoy Lucky Riches Hyperspins before it hits other operators next month. Get a competitive head start on your mates!