Mystery And Marble Await In Ivory Citadel
Ivory Citadel, Online slots, Mystery, Game, Temple
Source: Just For The Win
Sometimes it feels like life should have a little escape hatch. Wouldn't it be nice to launch from this world into a remote corner of West Asia? You'd meet tigers, bulls, and snakes and dig for riches in ivory temples full of marble, gold, and burning flames. We might not be able to transport you there in real life—and let's be honest, do you really want to meet snakes?—but luckily for all of us, Ivory Citadel is almost here. This new online slots game is out soon from Just For The Win Studios. So mark your calendars for December 3, 2019, because we're off to Asia.
Ganesha Clears The Path
First of all, let's get this out of the way. Ivory Citadel has Free Spins, and they'll be waiting for you when you pop this game open on December 3. The symbol for Free Spins in this game is a chubby, royal looking Elephant, which gives us the opportunity to look into just a little bit of symbolism.
It's unclear where exactly Ivory Citadel takes place, though Just For The Win suggests West Asia. The symbols in the game feel pretty South Asian, which is a fun twist for slot games. And the Free Spins symbol looks pretty close to Ganesha, a Hindu God worshipped in many South Asian countries.
If you're like me, you get pretty excited when you hit on Free Spins. So Just For The Win was smart to make the game's Free Spins symbol into an Elephant-esque God. In Hinduism, Lord Ganesha appears with an elephant's head. Because elephants are "path-makers" in the jungle, Lord Ganesha clears the path of life and allows us to move forward. His large mouth symbolizes our desire to enjoy life. And with an axe, Ganesha strikes and repels obstacles to let us continue without difficulty.
Ivory Citadel might be themed around a "lost city," but you'll definitely find your way to riches with Lord Ganesha as your guide! Free Spins for everyone!
Source: Just For The Win
Statistics For The Road
Ivory Citadel is a brand new online casino game with enough beauty and charm to transport you to another continent. The game is set up in a way that will feel familiar. It's a five reel slot with 20 possible paylines that pay out from leftmost to rightmost position. That probably feels like most of the games you play these days, which means you won't have to adjust your gameplay. And you can start your betting wherever you feel comfortable. The bet limits run between $0.10 and $100.
Ivory Citadel pays out about 96.03% of the time. So that means that if you play the game a hundred times and bet $1 each time, you're likely to end up with at least $96.03 by the end. But because you don't bet like a machine, you could end up with much more to win. The game has a medium volatility, so you'll feel engaged and excited the whole time you play.
Just For The Win Studios says Ivory Citadel hits once in every 4.45 spins for a hit rate of 22.22%. Basically, the game will pay out nearly a quarter of the time, so you can play it however you like.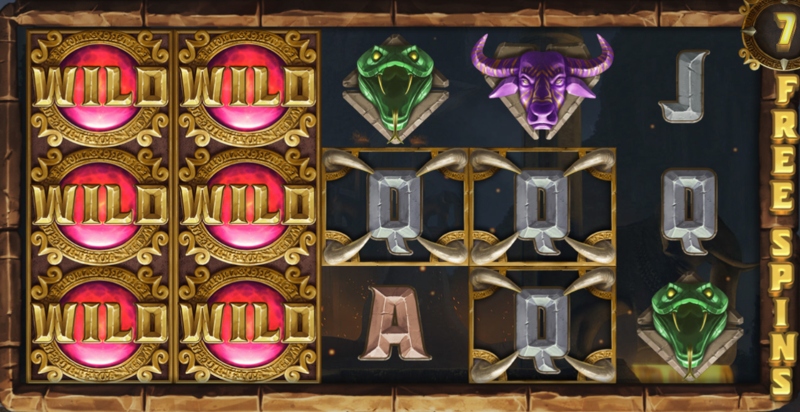 Source: Just For The Win
Features To Write Home About
The "Mystery Symbols" feature can appear in both the base game and during Free Spins. When you land a Mystery Symbol, you'll see a golden question mark surrounded by ivory tusks and—ahem—mysterious symbols. The Mystery Symbol feature acts slightly different in the base game and during Free Spins. But in both versions of the game, mystery symbols transform after every spin into any symbol except Free Spins. That means on every spin, you can earn more potential wins.
If you land 3, 4, or 5 Free Spins symbols in the base game, you'll earn 8, 10, or 12 Free Spins, respectively. This is when the Mystery Symbols change a little. In Free Spins, Mystery Symbols become Sticky Mystery Symbols. Those sticky symbols remain where they are for the remainder of your Free Spins. But if a reel has only Sticky Mystery Symbols at some point in your Free Spins, those symbols will turn into Wild symbols and stick there for the remainder of your Free Spins. It isn't possible to re-trigger Free Spins in this game. 
Wild Symbols will pay out the absolute highest possible winning combination you have on any given line. Five Wilds get you 40x your bet while four Wilds get you 16x your bet and three Wilds equal 5x your bet. They can substitute for all symbols except for Free Spins and Mystery Symbols.
Get Ready To Play
Like all of the games out from Just For The Win Studios, Ivory Citadel is beautiful. These makers never disappoint. The game will feel pretty familiar to others you've played, with just enough changed to keep you fully entertained. And the best part—you don't even need a plane ticket to take this trip deep into the West Asian jungle!