Top 7 Traditional Finnish Foods
Whether you love to travel or just enjoy learning about different countries, Finland is a good one to have in your sights. Located in Northern Europe, Finland may not be as popular because it is expensive and difficult to access from other parts of Europe. However, those who love Finland know that one of Finland's greatest attributes is the food.
Helsinki, Finland's capital city, is also known as Scandinavia's food capital. If you want the best Scandinavian food experience, head straight to Helsinki. Also known for night life and land-based casinos, you could plan a fulfilling vacation to this city. While you are surfing the web for information on Finland or planning your itinerary, try some mobile casino games from Spin Palace to get in an adventurous mood.
For now, let us tantalize your taste buds as you dream of visiting Finland by sharing with you seven of the top traditional Finnish foods. You'll drool over these dishes faster than you can say "cloudberry."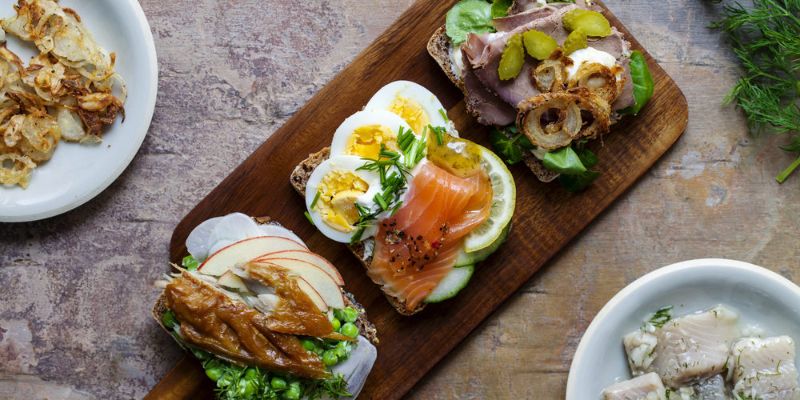 Source:Wander Beyond Boundaries
Lohikeitto (Salmon Soup)
Anything with salmon served in Finland is sure to remain in your memory as one of the greatest culinary experiences ever. As basic and traditional as you can get, Finnish salmon soup is a perennial favourite due to the sumptuous heartiness of salmon, potatoes, carrots, onions, and cream, seasoned with allspice and dill. Typically served with rye bread and salty butter, this is top-notch Finnish comfort food.
Salmon is also a prized commodity in Scandinavia. When you go to Finland, you must eat salmon. Traditionally a winter or fall meal, modern Finnish people eat salmon soup any time of year.
Siskonmakkarakeitto (Sausage Soup)
Truly unique and wonderfully Finnish, this soup is made with siskonmakkara or "sister sausage", which is raw sausage. The sausage used for this dish is made specifically just for this soup. You won't find it anywhere else. The raw sausage balls are squeezed from the casing and tossed into this clear broth soup. Once in the broth, the salted sausages ripen, simultaneously seasoning the broth. Spices such as parsley and black pepper are used, and the soup is also served with potatoes, carrots, leeks, and lingonberry. Often only made by Finnish people in their own homes, you likely won't find this dish in a Helsinki restaurant.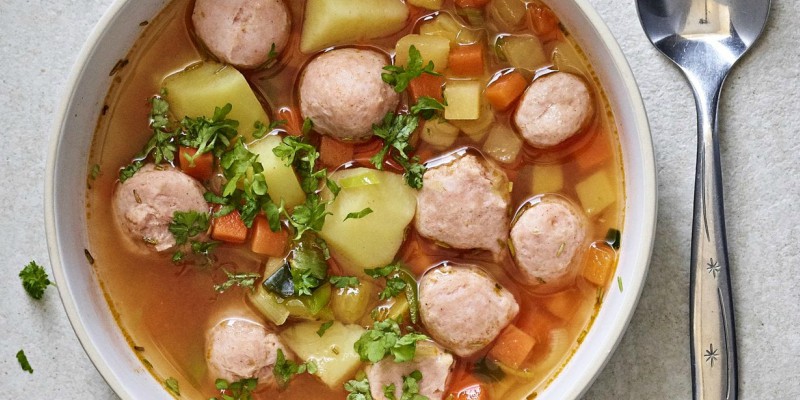 Source:Mikko Hannula
Karjalanpaisti (Meat Stew)
Here is your quintessential winter-time meat stew. Speaking of comfort food! Cooked in a vessel like a crockpot, this stew is made up of pork, beef, or lamb. Vegetables added usually include carrot, onion, and roots, and it is best served with mashed potatoes. The entire pot of goodness sits for several hours or overnight to produce the meltiest, most delectable stew imaginable. Not common for restaurants to serve, you might find a recipe on the Internet to try if this stew sounds too tantalizing to resist.
Paistettu Muikku (Fried Vendace)
Popular as a "street food" in Finland, fried vendace is a summer dish. The vendace, a freshwater whitefish, is covered with rye and regular flour. Then, the fish is fried in butter or ghee until crispy and golden brown. Often, you'll find it accompanied by a side of aioli and lemon. Most commonly you will find this freshly made delicacy in food markets near ports or market squares.
Lihapiirakka (Meat Pie)
Another Finnish staple is the meat pie (do you notice a trend with comfort food in Finland?). Greasy, salty, and incredible, minced meat and cooked rice are folded within a doughy shell and then deep fried. The dough is almost doughnut-like in consistency.
Also a street food favourite, experience Finland to the max with one of these meat pies. You'll find many kiosks in the cities where meat pies are a regular item, regardless of the season.
Korvapuusti (Cinnamon Rolls)
Let's take things in a sweeter direction. Korvapuusti, or cinnamon rolls, are sweet pastries packed with gooey cinnamon, butter, and sugar filling. Cited to be similar to but better than the common American cinnamon roll, Finnish cinnamon rolls are the perfect accent to any coffee outing in Finland. You can also find these rolls in many local grocery shops and cafes.
Leipäjuusto Lakkahillolla (Cheese Bread with Cloudberry Jam)
What a mouthful – literally and figuratively! You will certainly think so when you bite into this exquisite cheese. Considered a Finnish desert, leipäjuusto is a squeaky cheese that is baked over an open fire until it has a consistency like crispy bread covered with baked cheese. Traditionally, you would eat this tasty morsel with cloudberry jam. While you can find the squeaky cheese any time of year, enjoying it with cloudberry jam is dependent on cloudberry season. Fickle and unpredictable, you may only find fresh cloudberries in late July or August.  
Which Finnish dish is the most appealing to you? Let your palate tempt you to travel abroad to Finland to enjoy these exceptional foods amid the heart of Scandinavia.
Source:vastavalo.net