Skipping Egg-Hunting To Find Real Treasure
Gambling, Entertainment
Source: Just For The Win Studios
With Easter holidays well on their way and little bunnies gearing up for good-old egg hunting, can a new game coming to your favourite online casino on March 24th really take the shine? This new and exciting game is just the right kind of sweetness with adventure and possible winnings included. Just imagine you're a pirate monkey and have yellow-gold bananas lurking somewhere in the horizon waiting for you to find and devour them, with incredible prizes along the way. So you can skip egg-hunting to find the real treasure in this adventurous game.
What Gaming Dreams Are Made Of
Get set for the ultimate adventure in Treasure Skyland. With three monkeys adventuring through the floating islands in search for a banana utopia, it's going to be an electrifying journey that'll feel like it's being led by Jack Sparrow. With this new game from Spin Palace, you can hunt for yellow-gold bananas that may lead to big rewards.
Treasure Skyland is a Video Slots game consisting of 5 reels, 3 rows and 20 lines, and it will release just before Easter festivities. Just how far will this take you? Along with the opportunity to win potentially large prizes, you will have the most fun with a game designed for lovers of slots. So get the pirate in you ready to play your way to the monkeys' jackpots.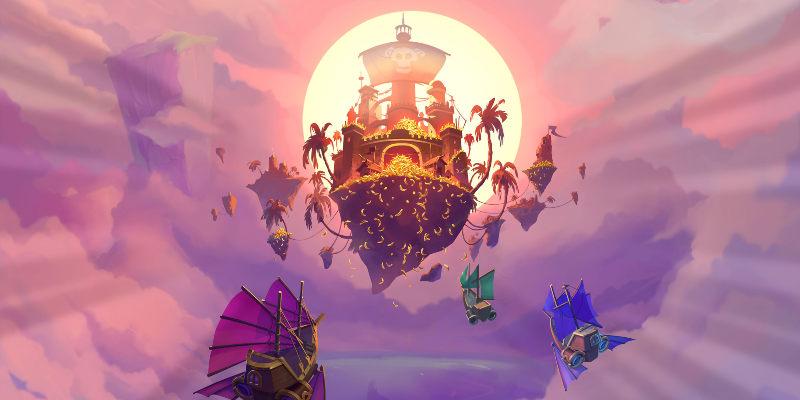 Source: Just For The Win Studios
Treasure On The Go
Treasure Skyland is available on both Spin Palace's mobile and desktop sites, so you can take the game with you no matter where you go. Whether you've just finished work in your office and have your desktop at closer reach, or you're waiting in long queues that make you oh so helplessly long for entertainment, this mobile-friendly game will give high-quality experience with no bias to screen size. And with language support of 24 languages including English, Spanish, Korean, German and more, you never have to worry about lack of choice, even if that means putting your high school foreign language skills to test.
Gaming In The Sky
So much to explore and just enough time to do so, Treasure Skyland lets you join the journey featuring great graphics of floating islands and their mighty views. But just when could you get those pirate coins? Win on a line pays if in succession from the leftmost to the rightmost position according to the Paytable. While only the highest win per line is paid, simultaneous wins on different lines are added, so great winning opportunities are possible.
On Treasure Skyland, coin sizes range from 0.01 to 0.10 and you can bet from as little as 0.1 coins when you're testing the waters to as much as 100 coins when you're soaring for the highest potential wins. With a payout percentage of 96.18%, high volatility and total hit frequency of 24.24%, a good playing experience is on its way. But if you can't seem to make up your mind, the default bet is 0.5, for days when you may be feeling just a little indecisive.

Source: Just For The Win Studios
Spinning Surprises
One of the few reasons some holidays aren't as fun is because they only come once a year. But with Treasure Skyland, it feels like a holiday every game round when the feature reel gets triggered. It's all sugar rush and goosebumps when anticipating what feature the reel will stop on, from 2-3-4x Multipliers, Symbol-to-Wild feature, Symbol Upgrade feature, Win Extend feature and Pick Bonus feature.
It's definitely not easy to think what could be better, with the potential of having your wins being multiplied by two, three or four, or having your wild symbols added to extend wins. This and more can be expected on Treasure Skyland, and will all navigate you through an old treasure map to a total banana bonanza.
Monkeying Around for Yellow Gold
Treasure Skyland is where adventure meets the destination of potential wins, at a sight of monkey pirates in the sky. Here's a game to take wherever you go to get the most out of its winning capabilities. Get ready for an amusing slot game that will take you on an adventure one reel at a time.