Virtual Reality Reshaping Online Casinos
Technology, Entertainment, Gambling
Source: Eugene Capon, Pixabay
Once viewed as impossible, virtual reality technology has now become a reality. The technology is becoming more widespread and it has seen a meteoric rise in popularity over the past couple of years. Already, VR technology is reshaping how online casinos work, making it possible to enjoy lifelike versions of your favourite casino games. To appreciate how virtual reality casinos work it's prudent to start by understanding exactly what virtual reality is.
Breaking Down Virtual Reality
Virtual reality is a computer technology that uses multi-projected environments or virtual reality headsets to create simulated environments. The technology generates realistic sounds, images, and other sensations such as touch to mimic a person's physical presence in a virtual environment. Virtual reality is a step up from traditional user interfaces that lack interaction with 3D worlds.
To date, VR technology has not been fully explored. The future will probably include the merging of virtual reality with mixed and augmented reality for the ultimate immersive experiences. It will, for example, be exciting to see how advanced VR technology reshapes the wide selection of available mobile casino online games.
A Short History of VR Casinos
Although the concept of virtual reality has been in the making for a long time, it only became common in the 1990s. At the beginning of the 2000s, some giant software developers announced their plans to create the first VR casino. At this point, VR technology was not as appealing as it is now. Virtual reality gaming lacked lots of appealing modern features and people had little to no interest in virtual casinos.
VR casino technology has improved substantially with the continuous developments taking place in the virtual reality world. The last few years have brought advanced virtual gaming gear that provides excellent user experience and superior gameplay. The casino gaming scene was disrupted by mobile casino and mobile casino online gaming not so long ago. Now, modern VR technology has ushered in a new era of gaming and it's contributing significantly to the growth of VR casinos.
It probably won't be long before more casinos start offering the VR casino experience. Keep a lookout for big casinos like Spin Palace – maybe soon they will offer VR games too!
How Does A VR Casino Work?
A virtual reality casino uses virtual gaming platforms to provide an unparalleled interactive gaming experience. Using high-resolution graphics, a VR casino replicates the atmosphere of a real casino. This means you get to enjoy all the casino graphics, sounds, and in-game chats and interactions as if you were in an actual brick and mortar casino.  
Although VR casinos don't offer a wide selection of games yet, they still offer the types of games you'd expect to play at a casino, including on mobile casino. In addition to slots, you get the typical casino table games such as roulette, blackjack, and baccarat. VR casinos also offer some modern virtual casino tournaments and advanced gaming services. This means you can enjoy multiplayer games in real-time for the ultimate hyper-immersive gaming experience.  
VR Casino Slots
Slots are the most popular game in casinos. The same is true for VR casino slots in VR casinos. The best part is that with virtual reality slots, the experience is not that different compared to being in an actual casino. You can still enjoy classic slots, video slots and progressive slots with the added realistic feel.
VR slots offer games such as Jack and the Beanstalk, Dracula and Starburst. The headset allows you to enjoy the whole casino environment. This includes everything from virtually walking through the casino hall or mingling with crowds, right down to hearing the coin dropping sounds as you play.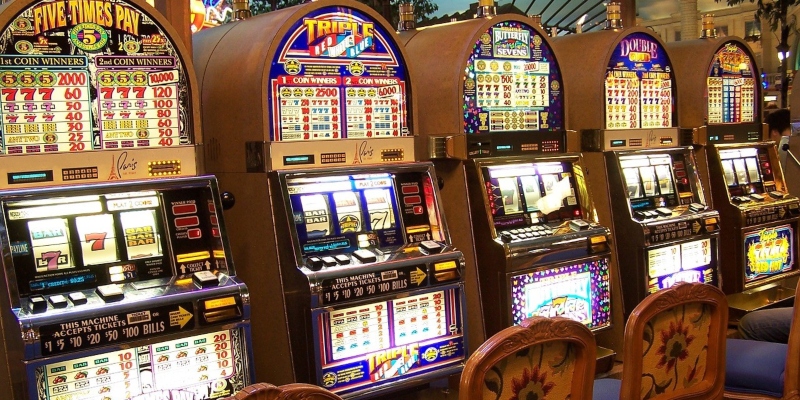 Source: Deluxetrade, Pixabay
VR Casino Blackjack
Blackjack is the most popular table game at online casinos. Perhaps unsurprisingly, it's also become one of the top most popular virtual casino games. VR blackjack is similar to the traditional version and it also gives you the real casino hall experience. You will get to experience sitting at what feels like a real blackjack table complete with a dealer.
VR Casino Roulette
Roulette, another popular casino table game has also found its place in the virtual reality world. VR roulette is the third most popular VR game. Virtual roulette will make you feel like you're playing the real thing in a physical casino. You can do various things including spinning the roulette wheel, collecting your bets, and picking up chips.
The Advantages And Disadvantages of VR Casinos
Several advantages of virtual reality in casino gaming are fuelling the growth of virtual games. Some of the top ones include:
Getting the 'live experience' without having to visit an actual casino.
Enjoying the social aspect and interaction of virtual gaming. Not only do you get to try something new but you also get to interact with dealers and other players as you play.
The ability to choose from a pretty wide selection of games.
Constant updates and improvements of virtual casino games.
A wide variety of improved promotions and bonuses.
Virtual reality gaming has its merits, but it also has a few drawbacks. The following are some of the most common disadvantages.
The initial investment in virtual reality equipment, software, and program tools can be costly.
Compared to traditional gaming, you are limited when it comes to where you can play.
It's possible to end up gambling more money or being addicted to gaming due to the immersive nature of virtual casinos.
With some diligence and responsibility, it's possible to enjoy the thrill of virtual casinos. When all is said and done, VR casinos are disrupting the casino landscape by providing unmatched casino gaming experiences. It's clear that the VR casino space will continue to grow significantly and it will be exciting to see what future virtual reality developments bring to the casino world.