Who Is Congresswoman Alexandria Ocasio Cortez?
USA, Trump, US Presidency
Source: ASSOCIATED PRESS/J. Scott Applewhite
Alexandria Ocasio Cortez is one of four Democratic congresswomen recently targeted by President Trump. All have been advised by Trump that they should 'go back' to their own 'crime infested' countries. The US President's remarks have been widely condemned as a racist outburst with criticism coming from across America, as well as around the world.
Often referred to simply as AOC, Alexandria Ocasio-Cortez attracted widespread attention throughout the Democratic Party when she gained a victory over political veteran and establishment favourite Joe Crowley in the party's primary election in New York's 14th congressional district last June. Following on from this significant upset, in the subsequent November mid-term elections, the 29-year-old female politician took on, and defeated, Republican candidate Anthony Pappas – thus becoming the youngest woman to enter the US Congress.
A politician conversant with social media
This newly elected lawmaker was born in the Bronx, New York to parents of Puerto Rican descent. She is a graduate of Boston University, where she gained a degree in economics and international relations, and has also worked as a community organiser, educator and bartender before she made the decision to run for public office.
Since her election, AOC has developed what is by Congress standards a substantial social media presence. This, and her references to herself as a democratic socialist, have made her something of a target for those on the political right of US politics. Nevertheless, she has continued to campaign in the political spotlight, often using social media as a tool to defend her views on a range of contentious issues including immigration, poverty and race, against Republicans, media critics and others. For instance, her impassioned testimonies delivered at congressional hearings are regularly circulated and shared on Twitter where she has almost five million followers, many of whom no doubt also regularly play online slots.
Her stance on US environmental policy has been especially vocal, and she is one of the sponsors of the Green New Deal resolution – a document which calls upon the US to set a net-zero target for greenhouse gas emissions, along with other environmental demands. It is therefore hardly surprising that this Bronx representative has also been particularly scathing in her recent criticism of America's president, saying she believes there is 'no question' that Donald Trump is a racist.
Source: Corey Torpie
Primary campaign
Ocasio-Cortez began her 2018 campaign against Joe Crowley, the Democratic Caucus Chair, while she was still waiting tables and tending a taqueria bar in New York's Union Square. She was the first person to challenge Crowley in a primary since 2004, and remarks: 'For 80 per cent of this campaign, I operated out of a paper grocery bag hidden behind that bar.' Clearly, at a great financial disadvantage, she resolved to play 'a totally different game', performing well in a face-to-face debate with Crowley which was broadcast on local TV. A further debate was scheduled but Crowley subsequently declined to participate, sending a deputy to attend in his absence.
General election campaign
In the November 2018 general election, Ocasio-Cortez faced Republican nominee Anthony Pappas, an economics professor at St. John's University. The New York Post has suggested that Pappas did not actively campaign, given that Democrat voters in the 14th outnumber their Republican counterparts by almost six to one. AOC herself was endorsed by several political figures, notably former President Barack Obama and U.S. Senator Bernie Sanders, as well as by a number of politically progressive organisations.
Crowley also appeared on the ballot as a nominee for the WFP (Working Families Party), and in fact, was encouraged by some to conduct an active campaign. This threat never materialised and, while Pappas returned 14% of the vote, Ocasio-Cortez won the seat with a majority of 78%. Her election was part of a broader Democratic victory which saw the Democrats gain control of the House by winning more than 40 seats.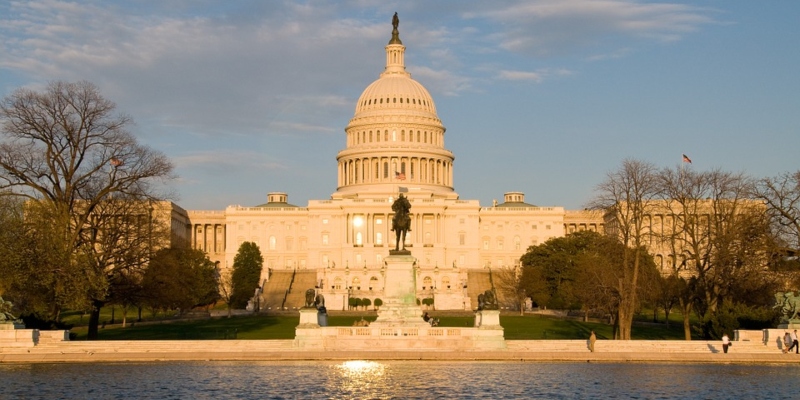 Source: ASSOCIATED PRESS/J. Scott Applewhite
Trump's test run
Trump is, of course, no stranger to controversy, but it has been hard for him to disguise his enthusiasm for this debate. And it seems the global disapproval which has been expressed may even have served to ramp up his energy levels. These tactics are surely an indication of the divisive strategies Trump will rely on in 2020.
Throughout the course of the daily exchanges, Trump has steadfastly refused to back down – defiantly flinging his stinging rhetoric back in the faces of his gathering army of critics – this creation of an us-against-them bunker mentality seemingly the prized outcome the president has been seeking.
Trump recently tweeted: 'Why won't the Radical Left Congresswomen apologize to our country … for the foul language they have used, and the terrible things they have said.' While in another caustic comment, he labelled Ocasio-Cortez and her fellow progressive Democrats 'a bunch of Communists', adding that 'they hate our Country'.
When tackled by the press, the unrepentant president doubled down on his 'go back home' remarks by provocatively suggesting he would say to these women: 'If you're not happy here, then you can leave'.
Despite the increasing acrimony, no high-ranking Republicans spoke up in support of Trump's views. In fact, observers noted that the default response from the president's own party was to avoid offering any response at all.
In her own remarks, Ocasio-Cortez looked back to her first visit to Washington when, as a little girl, she accompanied her father. While they both sat beside the Reflecting Pool that stretched along the National Mall between the Lincoln Memorial and the Washington Monument, her father had said to her: 'All of this belongs to you.'
'I want to tell children across this country,' she said, 'that no matter what the president says, this country belongs to you.' Adding: 'Today, that notion – that very notion – was challenged.'