An online slot that transports you back to the age of knights
They have gotten every visual element exactly on cue in this game. From the aged scroll that serves as the slot reel face to the moody background of Camelot castle, they all evoke that magical time of Arthurian legend. Even game symbols perfectly follow this theme, with bonus symbols being icons of their greatest adventures, such as the holy grail. Wilds in this online slot are represented by a golden coin.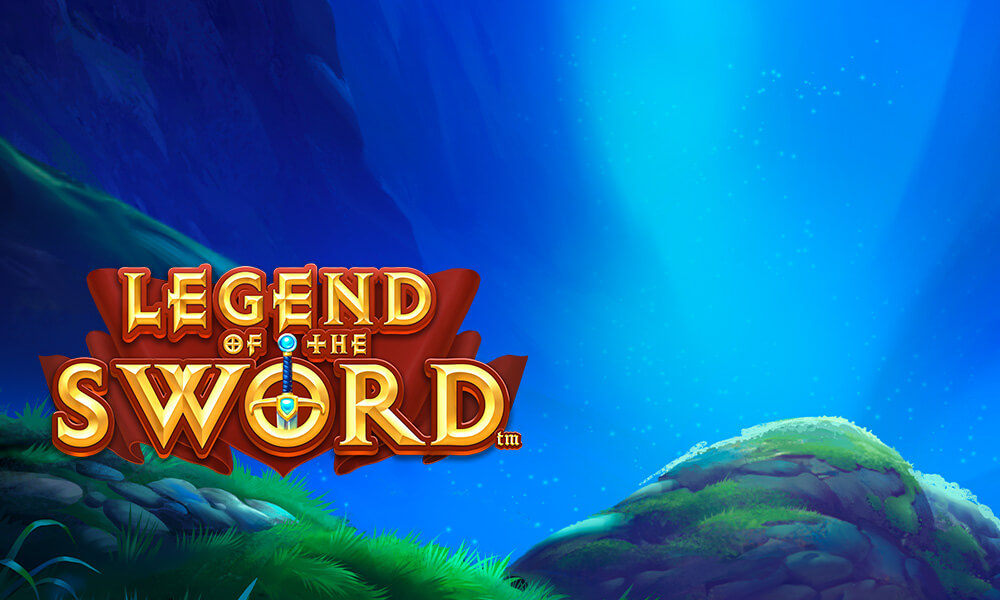 The quest for the Swords
The Camelot Free Spin event is one of the central features of the Legend of the Sword slot game. This is the feature that players find most entertaining, owing to its generous multipliers and rapid pace. This is where you hunt for the Excalibur Swords and stake your claim!
Multiply your slot winnings in Camelot Free Spins
The event is triggered when 3 Free Spin symbols appear anywhere on reels 1, 3 or 5. You'll immediately be rewarded with the 3 free spins and a Sword, which not only represents the first step in your quest but also your win multiplier, up to a maximum of x10. You can only collect one each spin and they only payout at the end of the event.
Find All 10 for a massive win
During your 3 free spins, each time a Scatter symbol appears in Legend of the Sword you'll be awarded a sword, taking you one step closer. Your free spins are also taken back to 3. After you've found all ten you'll have achieved your quest with a x10 multiplier win. But it doesn't end there, there's still a chance to carry on finding paylines as Free Spin Scatters on the reel will still reset your free spins to 3. After those have run out, your payout will be determined by your Scatter Pays, the Sword multiplier and the original bet that triggered the event.
This online slot boosts your prizes sky high
Any time 5 or more Excalibur Scatter symbols appear in the Legend of the Sword video slot game, anywhere on the reel, your wins are multiplied. 5 Scatters will double your winnings while all 10 appearing on the reel will shoot your winnings up by a kingly x10 000 your original bet!
What if I have a problem playing Legend of the Sword?
Spin Palace offers an online Live Chat online function, where operators in all major languages and standing by waiting to help walk you through your problem and resolve any issue you have with our game or platform as quickly as possible.
How secure is the Spin Palace Platform?
As an established online casino, security is always our highest priority. We use the most advanced encryption available to protect you and your data. We also only work with the most trusted and secure banking systems so that all transactions are private and completely safe.
Can I open more than one slot game at once at Spin Palace?
Yes, you can open multiple online slot games simultaneously but only in the desktop version of our platform. You can only play one game at a time on our mobile app.