Base Game
As the name implies, Real Dealer Roulette sets you up with a live dealer at a private table for satisfying games of European Roulette, which is the original form of roulette invented in the casinos of Paris in the eighteenth century. The dealer asks you to place your bets, then spins a roulette wheel is numbered from 1-36, with a single zero pocket, and spins a little ball in the opposite direction. The number of the pocket the ball comes to rest in determines whether your bet succeeds.
For the sake of variety, Real Dealer Roulette has eight different dealers, each with their own distinct personality and style of dealing. You don't interact with them live, because they're generated by AI from recorded footage, but the Hollywood production is so realistic and convincing you can hardly tell the difference. The dealers rotate between sessions, but you can also take control and select your favourites. Outcomes are determined by random number generators and the uninterrupted game-play is always error free.
Classified as a low volatility game, Dealers Club Roulette was intentionally designed for today's mobile casino , so you can play it any time you like on your mobile device of choice. Of course, it looks tremendous on a desktop too.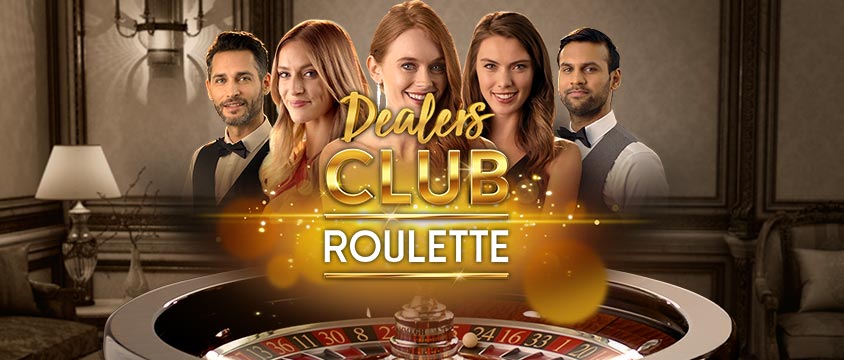 How To Play
The basic idea behind Dealers Club Roulette is simple. Go to the betting menu, choose your bet, select your betting level and press "spin". The full spectrum of European Roulette bets is available, including even-money, column, dozens, line, square, street, split and straight-up bets, as well as the more complicated French bets. If you have no idea what any of these means, that's okay – you can practice for free in demo mode until you've got the hang of the game. If you've played online roulette before, you'll be interested to know that the minimum bet is always 0.25 credits, but the bet ceiling depends on the bet you place. Low-risk bets have a higher ceiling and vice-versa. The highest maximum is 1,000 on even-money bets, and the lowest is 125 on straight up bets.
Special Features
A particularly good aspect of Dealers Club Roulette is a set of intuitive special features that integrate so seamlessly into the game-play that they soon become second nature. First is the ability to switch dealers. Dealers switch automatically after a pre-set number of game rounds, but you can also switch to your dealer of choice via the "Dealer" button on the betting menu at any time. When it comes to betting, the Special Bets feature gives you a selection of nine different popular preset bets. For a more advanced approach, the Racetrack Bets feature takes you to a different betting board where you can place also place French bets such as Voisins du Zero (Neighbours of Zero), Tiers du Cylindre (Thirds of the Wheel) and Orphelins (Orphans). For greater ease of play, you can also pre-select 25, 50 or 100 automatic re-bets with the Autoplay feature.
Real Dealer Studios And Microgaming At Spin Palace
Dealers Club Roulette is an exclusive Microgaming production developed by Real Dealer Studios. Industry pioneer Microgaming is world famous for developing the first genuine online casino software in 1994. They followed up on this coup with the first mobile casino games in 2004. Since then, they've kept on pushing the envelope with continuous releases of premium online slots and casino table games. Today, Microgaming partners searches for the very best in development talent to partner with – Real Dealer Studios, for example. This creative team has struck a vein of unique live RNG content and they've bust it wide open with fantastic titles such as Real Baccarat, Reel Auto Roulette, Turbo Auto Roulette and the Fortune Finder variety game. Play them all at Spin Palace Casino!
Explore Further At Spin Palace
If a round of Dealers Club Roulette sounds good to you, simply register at Spin Palace Casino. At the same time, your membership will give you automatic access to our entire library of online slots , casino table games, casual games, video poker and more. Every game is certified by eCOGRA as being safe and fair, and our SSL digital encryption technology protects your privacy at all times.